Toronto-born designer Daniel Gregory Natale graduated from Parsons with distinction in 2015, and luxury British department store Selfridges bought his entire graduate collection that same year. But what you'll likely know him for is a single pair of upside-down jeans. Not ringing any bells? Maybe you would recognize the shockingly similar pair Demna Gvasalia sent down a Vetements runway a few months after Natale debuted his. Made from a pair of upcycled Levis turned upside down with the pockets sitting at the ankles, Natale's first appeared in his Fall/Winter 2017 look book, but they were brought back out for a limited reappearance at the Toronto Fashion Week RE\SET showroom this week.
Despite his uptick in fame following his Vetements controversy, Natale's Spring/Summer 2019 collection proves his commitment, prodigal vision and work ethic haven't changed. Brutalist architecture remains a source of inspiration for him, with the silhouettes at day three's presentation wide and imposing. The oversized factor also contributed to Natale's recurring theme of vintage-looking garments, giving them a hand-me-down vibe. With many of the tops including patchwork crocheted details that look like they were taken from your grandmother's sitting room, Daniel Gregory Natale proves borrowing isn't always a bad thing.
WIL Studio, which stands for "What I Love," is known for melding the worlds of well-tailored, sartorial craftsmanship with contemporary street style. Most of their garments skilfully straddle the divide between business casual and laid-back weekend-wear.
This season, their presentation definitely skewed more formal, taking the usually interactive RE\SET Showroom and transforming it into a garden-party-themed runway show, complete with white arbours and mulch outlining the catwalk. The traditional set-up of the show was a stark contrast to the collection itself, which leaned much more casually than we've come to expect from Eric Richards and Rahul Madan, the brand's co-creative directors. The few collared shirts were left unbuttoned and askew, T-shirts had big logos painted across their chests and windbreakers and comfortable shorts appeared in highlighter yellow.
Rather than taking their usual queues from contemporary menswear, it seems WIL Studio turned to the '90s this season, with all the outfits looking like they could have appeared on a more fashionable version of Paul Rudd's Josh from Clueless… with just a dash of inspiration from skater boy Travis. (But maybe we're being too heavily influenced by the show's soundtrack, which included Sugar Ray's "Fly.")
"To all the adults that knowingly or unknowingly crush the wings of of their younglings, the message is: don't crush the caterpillars." Pedram Karimi prefaced his Spring/Summer 2019 runway show with a monologue, urging people not to clip people's wings before they're given their chance to fly, relating it to a meditation retreat he went on during caterpillar season where he unknowingly tread on hundreds of caterpillars. As the show began, the screen where the taped monologue was playing faded into a blue-sky background filled with flying monarch butterflies.
Rather than hosting his show on the main runway, Karimi turned the RE\SET Showroom into a labyrinthian catwalk lined with benches. Models wandered through the maze cocooned in nude chiffon and lace. As the show progressed, Karimi introduced white linens and black leathers before the finale look. Driving home Karimi's mantra of "don't crush the caterpillars," the last two models walked down the runway hand in hand wearing nude chiffon dresses and holding neon yellow butterflies.
The final day of Toronto Fashion Week closed out with three shows in the RE\SET Studio.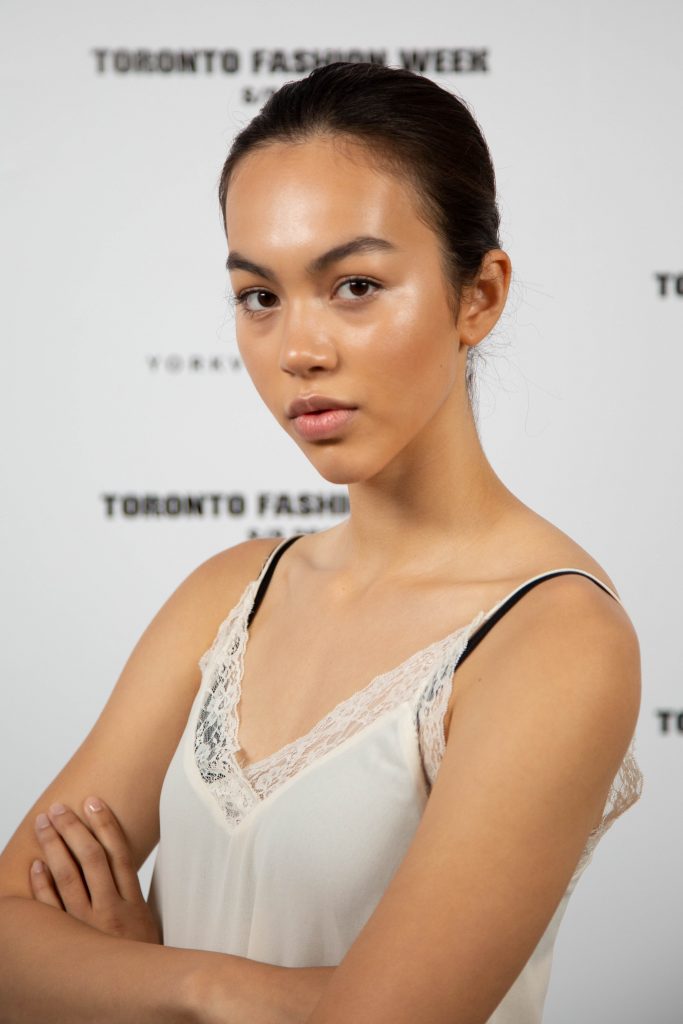 The day kicked off with Daniel Gregory Natale where Simon Otis, lead makeup artist for beautyBOUTIQUE by Shoppers Drug Mart created a natural, dewy look on models."[The designer] wanted a no-makeup look but still wanted [glowing] skin," Otis said. She used RMS Living Luminizer and a few dabs of Elizabeth Arden 8 Hour Cream on the high points of models' faces to create almost wet-looking skin.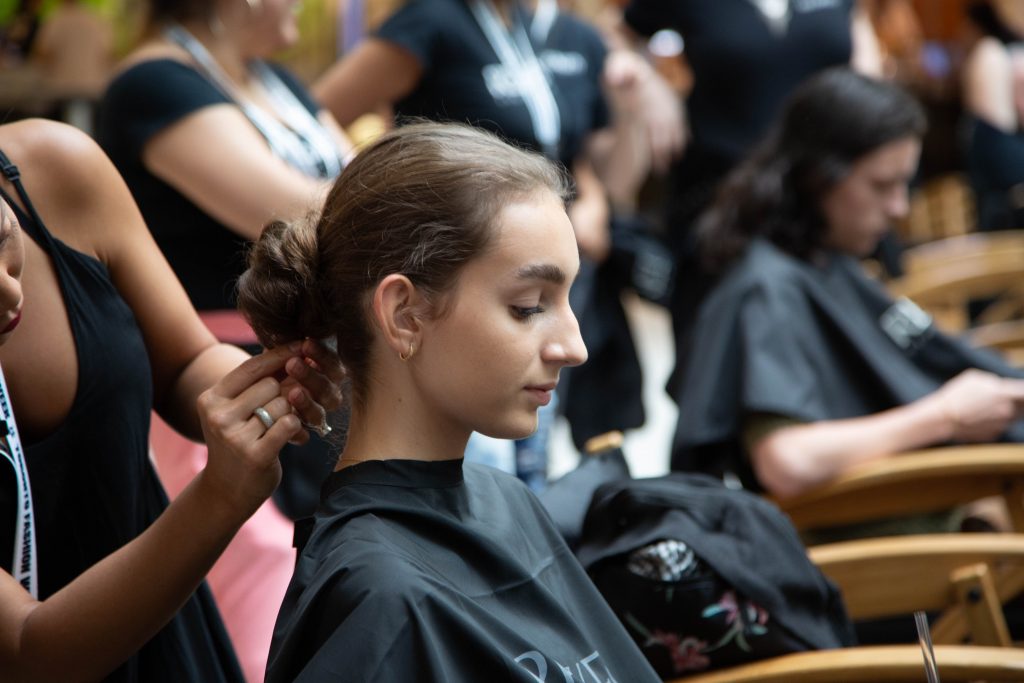 For hair, Jorge Joao, lead backstage stylist for Redken, recreated a classic style but with a feminine edge. Redken Full Frame 07 Volumizing Hair Mousse was applied to strands which were then pulled back into a chic chignon. Flowers of different shapes and colours were then applied to the bun.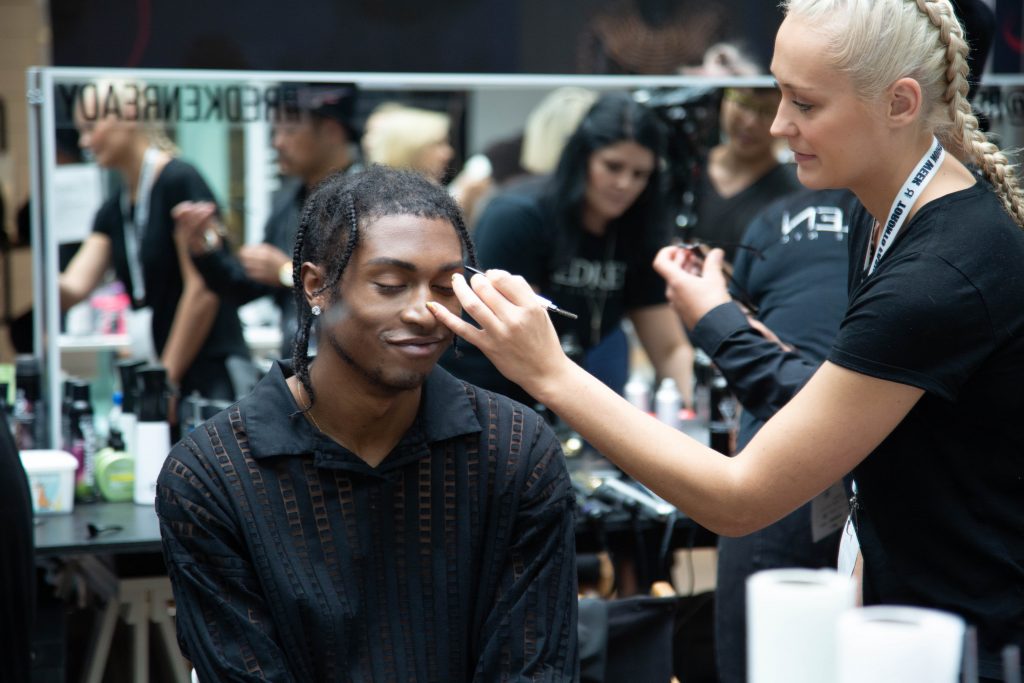 Next up was WIL Studios, which had a simple mandate of grooming to make the models look runway ready.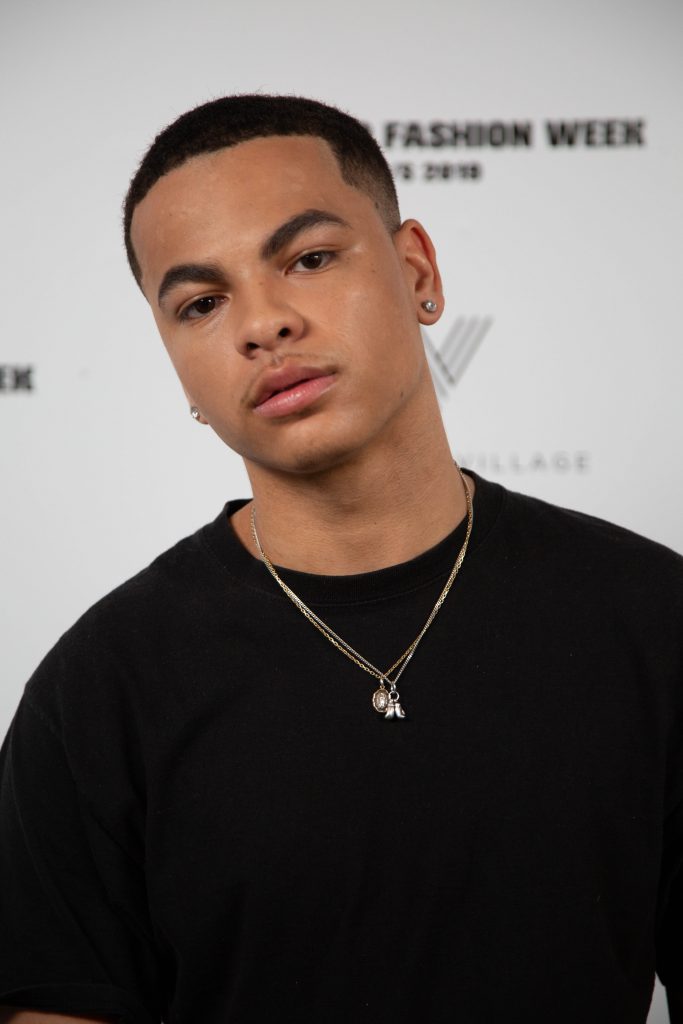 Joao used Redken Fashion Waves 07 Sea Salt Hair Spray to amp up natural texture along with Redken Shine Flash 02 Glistening Mist to make the guys look "groomed and natural."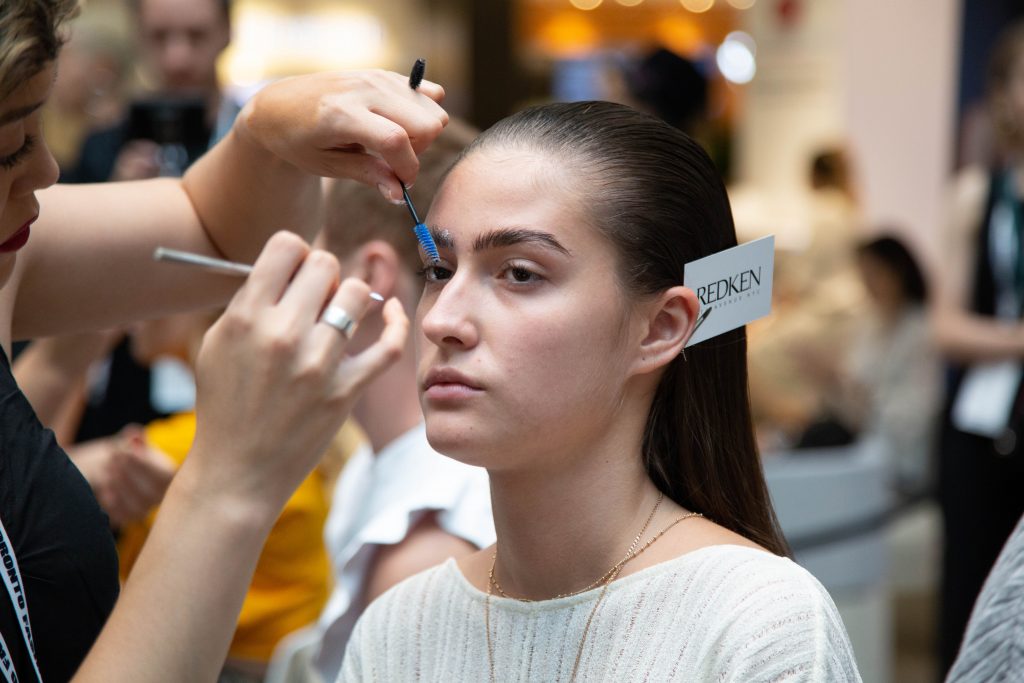 Closing out the evening was Pedram Karimi. Otis designed a makeup look that took inspiration from butterflies coming out of their cocoon. Eyebrows were blocked out while soft pink and blue eyeshadow was buffed out around the eyes. "[The look] has an otherwordly effect with the blocked out brows and the hint of blue," says Otis. She finished it of by applying a neutral nude matte lip to keep the focus on the eyes.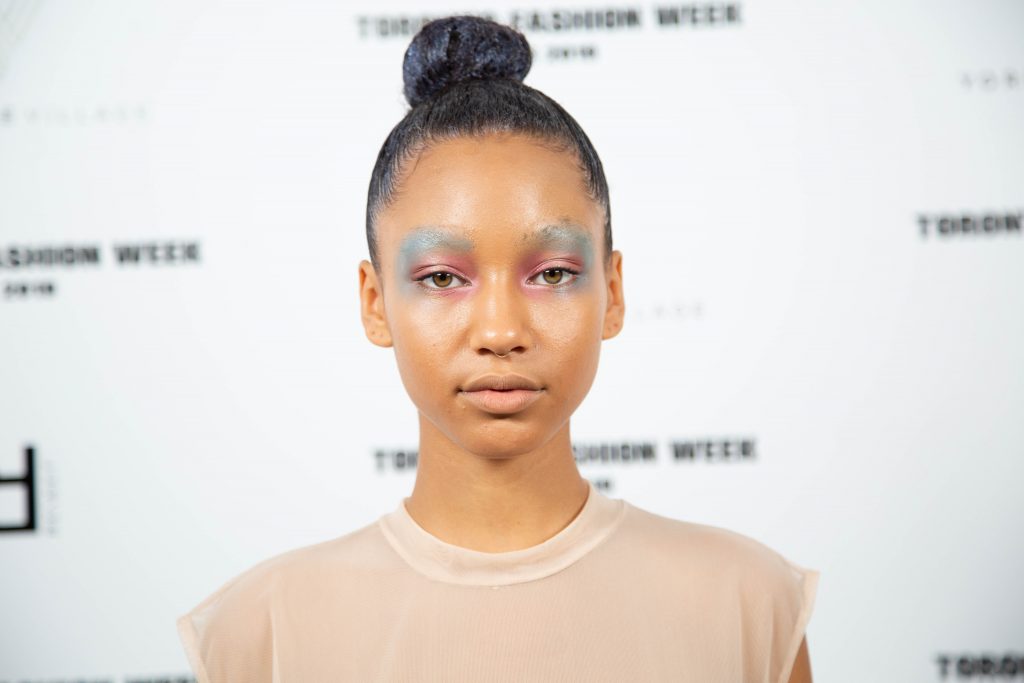 Hair was slicked back using Redken Guts 10 Volumizing Hair Spray Foam in the roots and then blowdried back for hold. Once the style was set, gel mixed with shimmery colour was painted onto the top of the head to add a flash of sparkle.