Tara Rivas started Toronto Fashion Week day two off with a bang, hosting the brand's third birthday in the RE\SET Studio. Celebrations were complete with glitter, balloons and gift bags filled with lollipops, chewing gum and gummy candies. The clothes continued the party theme, but think less "elementary school birthday party" and more "cocktail party." There was a miniskirted blazer dress, brightly coloured bustiers and two head-to-toe sequin looks — one gown and one flared jumpsuit. Even in the less glittery looks, the spirit of the party was kept alive in the models' silver stilettos. And the '90s playlist didn't hurt either (Destiny's Child, anyone?)
For Spring/Summer 2019, Hayley Elsaesser wants us to feast our eyes. Yes, she delivered all the things we were waiting for with bated breath: wild colour palettes, pattern overload and its continued crusade to support less conventional models like Rachel Romu, who has Ehlers-Danlos syndrome and walks with the aid of a cane. But this season she traded her pastel snakes and flip phones for a new muse: food. There were jumpsuits covered with ice cream cones, lemon-printed blazers and fried-egg-patterned sweaters.
The tone changed halfway through the show, as Elsaesser debuted a collaboration with Toronto's Get Fresh Co. The menswear company's influence brought athleisure gear to the collection, such as camo leggings and jerseys, both splattered with tiny cherries. As long as Hayley Elsaesser continues to offer veritable feasts for our eyes, we will continue to eat it up.
WRKDEPT is known for questioning and blurring the lines of gender. For their presentation in the RE\SET studio, they found inspiration in a piece of clothing that perfectly encapsulates their ethos: the collared dress shirt. Once symbolic of the male working class, it has recently been overtaken by the shirt dress a la Rihanna and Lolita Jacobs, the French stylist who got married wearing a white collared shirt.
Andy Long Hoang and Tinashe Musara, the designers behind WRKDEPT, further deconstruct our expectations while also deconstructing the simple dress shirt. In their collection of 13 shirt dresses, each design affixes new elements to the simple base. There are designs with cinched waists, pleated or quilted pockets, bell sleeves, no sleeves and sleeves that graze models' knees.
Christopher Paunil is best known for his beautiful bridal designs. Not one to keep us waiting, he opened his Spring/Summer 2019 runway show with 12 wedding gowns (or 11 wedding gowns and one wedding jumpsuit, more accurately). Headed down the runway to heady instrumentals against a backdrop reminiscent of the Palace of Versailles, the wedding gowns were billowing and dreamy.
But the mood quickly shifted with the backdrop, which switched to an animated neon pattern. The clothes quickly became just as colourful, as Paunil moved onto his formalwear collection. With more freedom to explore colours and unconventional patterns outside of bridal wear, the latter half of the show was a whirl of pastels, golds, bird patterns and a reflective holographic gown with a crystalline bodice serving as the finale look.
Opening with a fashion film centred around young couples that are carefree and in love, Hendrixroe immediately set the scene for what would be a playful runway show. Models danced down the runway — quite literally in a few cases — to a hip hop playlist heavily featuring early 2000s favourites like Missy Elliott's Work It.
The outfits matched bright, primary colours with other brights, usually in pairings of complementary colours. There were transparent waterproof jackets in orange, purple, green and red; cerulean suits; a green chiffon jumpsuit with a five-foot-long train. The collection was youthful in its colour palette, but also in the chosen silhouettes, with each piece seeming to take comfort into account.
Considering the tone of the night, it should come as no surprise that Hendrixroe closed their show with a live rapper and his breakdancer/hypeman.
The Tara Rivas show got the night for day two off to a beautiful start in the beauty department.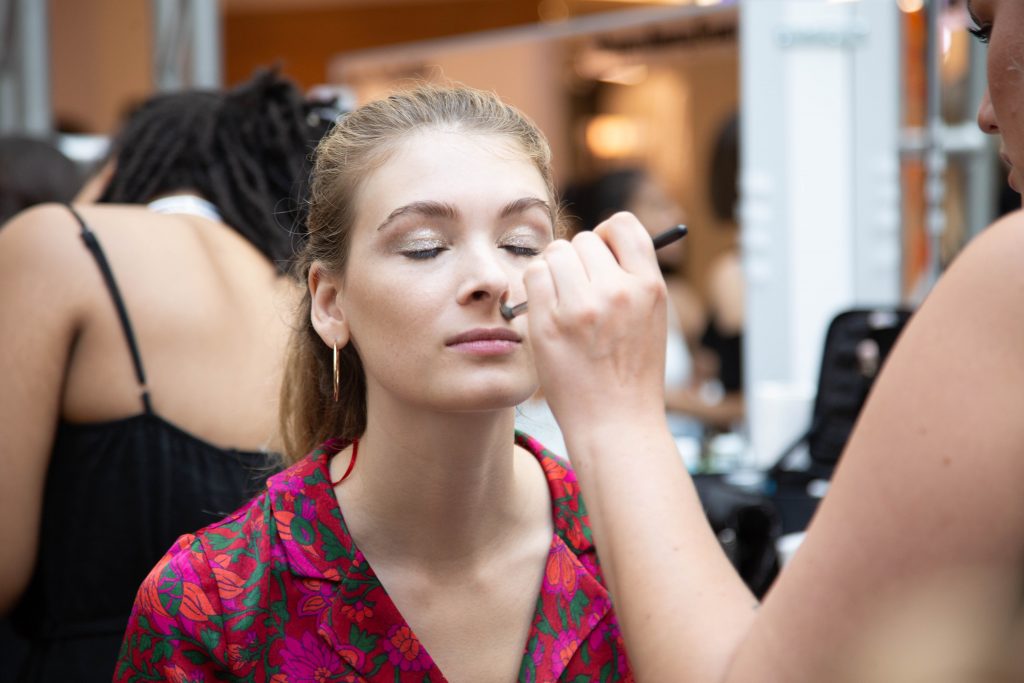 Simone Otis, lead makeup artist for beautyBOUTIQUE by Shoppers Drug Mart, applied Stila Glitter & Glow Liquid Eyeshadow in Diamond Dust to give eyes a sparkly silver glow. The look was paired with a soft highlight that was buffed onto cheekbones and a natural glossy lip.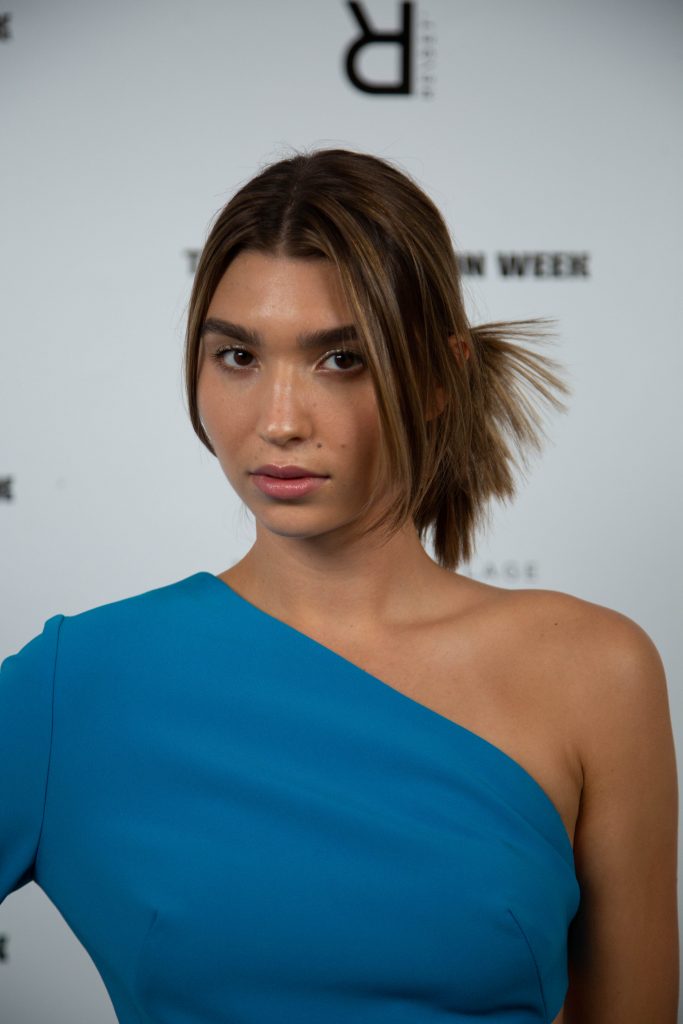 Jorge Joao, lead backstage stylist for Redken, pulled hair back into a ponytail bun-like style. "The look is soft, feminine and effortless," Joao said. Redken Fabricate 03 Heat Active Texturizer and Fashion Works 12 Versatile Working Spray was spritzed on for volume and hold.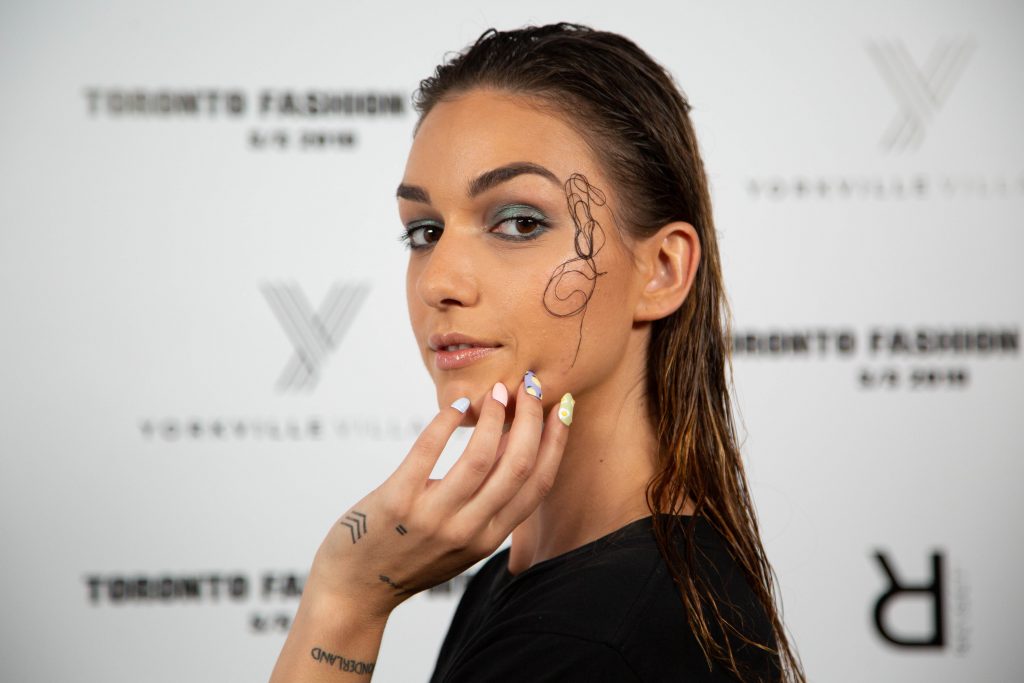 The Hayley Elsaesser show is always a TFW highlight and this season the designer continued to tell a story with her collection and the beauty look. Models wore a shimmering holographic eyeshadow and sleek, wet hair to give the illusion that they had just stepped out of a lake. A single thread was also applied to the side of model's temples. To create the slick hairstyle, Redken Guts 10 Root Volumizing Hairspray Foam was applied from roots to tips along with water.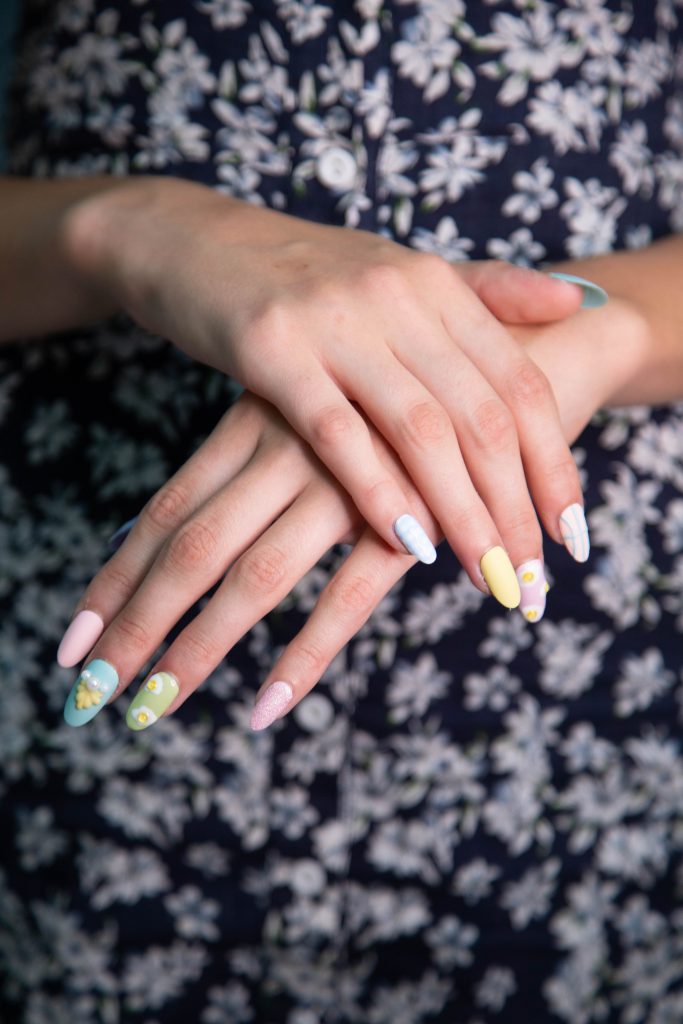 To tie the beauty look together, CND Canada and Her Majesty's Pleasure created fun, whimsical nail art for the show that included designs with eggs, lemons, camo print and more. "The nails for Hayley this season are cool, playful, they feel animated and the colours are pure spring," says Jennifer Mather, education manager at CND Canada.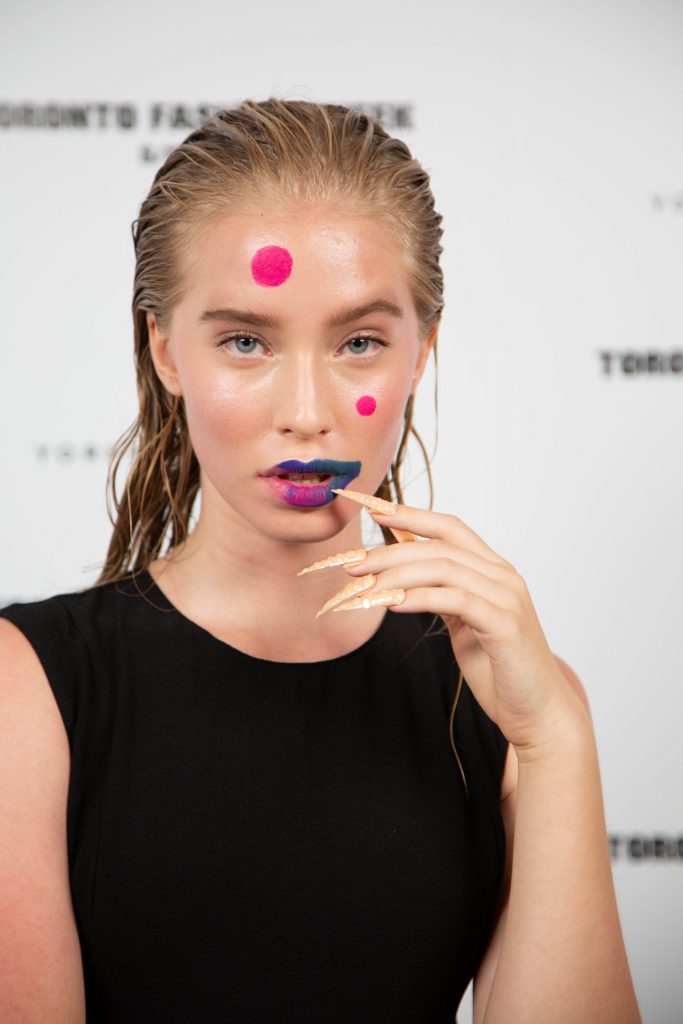 In true WRKDEPT fashion, the beauty look executed this season was colourful and creative with Otis creating three makeup looks for the show. Model's rocked strategically placed dots on their faces along with either a fuchsia exaggerated lip, blue and green liner or a navy blue, partially wiped off lip.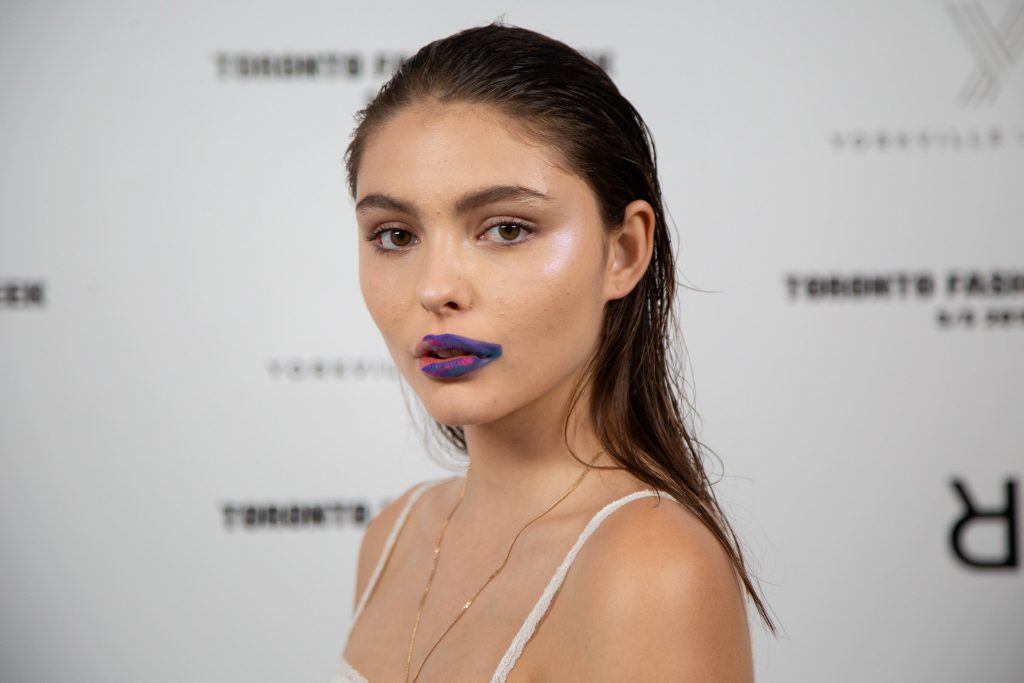 "They are always about fun and always have a story with their collection," Otis said. Hair had a grunge, rock 'n' roll feel with strands pulled back and tucked behind the ears and a few pieces pulled out to frame the face. For nails, Mather described the look as feminine and strong. "This show is all about effortless, out-of-the-shower beauty, so we did a long stiletto nail with water droplet [appliques] on each nail in soft chromatic shades."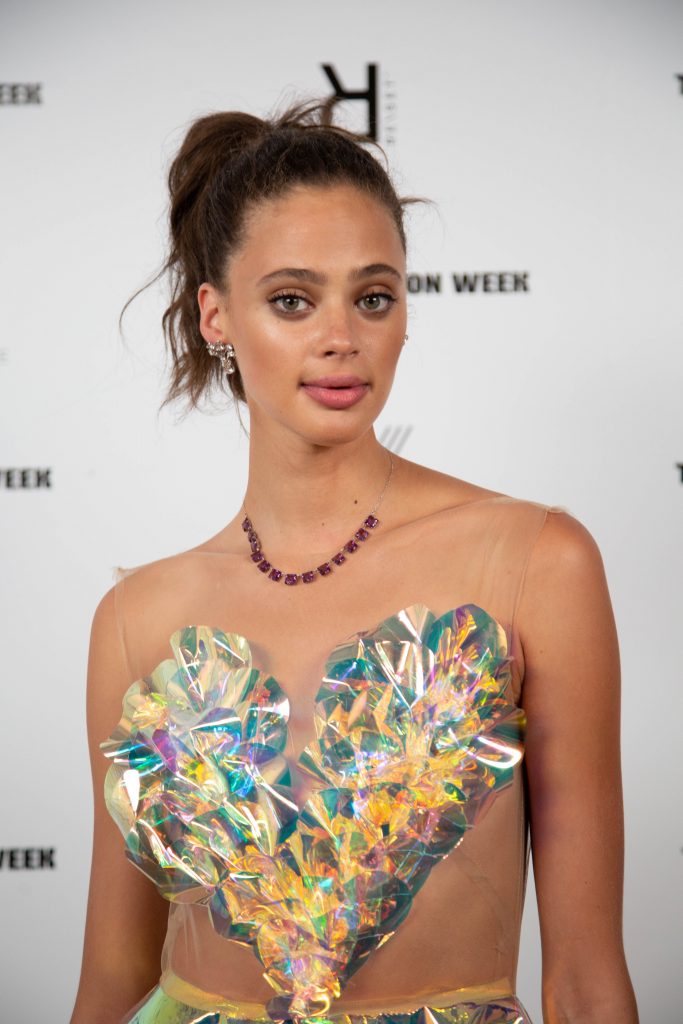 Christopher Paunil showcased an intricate, sophisticated collection this season and went for a more pared back beauty look to complement the line. "He wanted a youthful quality to the makeup," Otis said. She used soft shades of pink on the lips and amped up models' skin for a fresh, dewy finish that wasn't too heavy or overdone. Joao used Redken Full Frame 07 Volumizing Hair Mousse to add a little grip to the hair before pulling it back into a high ponytail. "I love the softness of this look as it's playful and sporty but still high fashion," Joao said.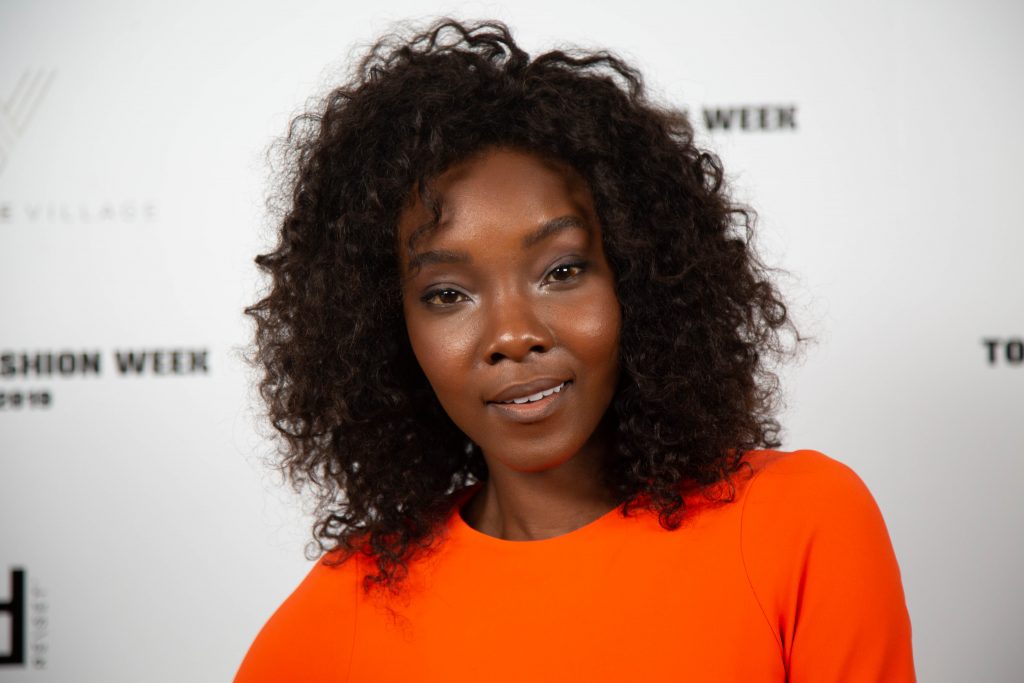 Closing out the night was Hendrixoe. The makeup for the show was glowing, radiant skin with a soft white highlight applied to the inner corners of the eyes, defined brows and glossy lips. Hair was amped up using Guts 10 Root Volumizing Hairspray Foam to achieve bombshell status with lots of movement and texture.