The second day of Toronto Fashion Week continued with shows, presentations and talks highlighting the best in Canadian fashion. Panels and podcasts ruled the day as industry pros Maurizio Donadi (Atelier & Repairs), Leah Morrigan (Image Consulting for Men), and Marilyn McNeil-Morin (George Brown College) discussed responsible fashion; The Brand is Female shined a spotlight on women disrupting retail with BonLook founder and CEO Sophie Boulanger, Ecksand co-founder and creative director Erica Bianchini, and host Eva Hartling; shoe designer Ron White also spoke about his career with Fashion Talks host Donna Bishop.
Hania Kuzbari showcased her jewelry designs in a private, parlour-style presentation, and Gigi Gorgeous touched down in the city to celebrate the opening of the XPOSED exhibit. Meanwhile, several designers showcased their latest—and in some cases, their very first—collection at Fashion House and the Royal Ontario Museum.
Here are the standout moments from Day 2:
INDEPENDENT SPIRIT AT ANISHA KUMAR, HANIA KUZBARI AND THE FERAL
Anisha Kumar made her debut as a Canadian designer in the first runway show of the day. The designer incorporated traditional Indian fabrics and silhouettes to create ready-to-wear pieces that can be worn by anyone. The makeup, created by Elena Pacienza and Hanoch Drori, featured a statement red lip using Da Lish's Canada 150 lipstick. "The inspiration was to show the beauty and strength of having confidence in your own individual style," says Pacienza.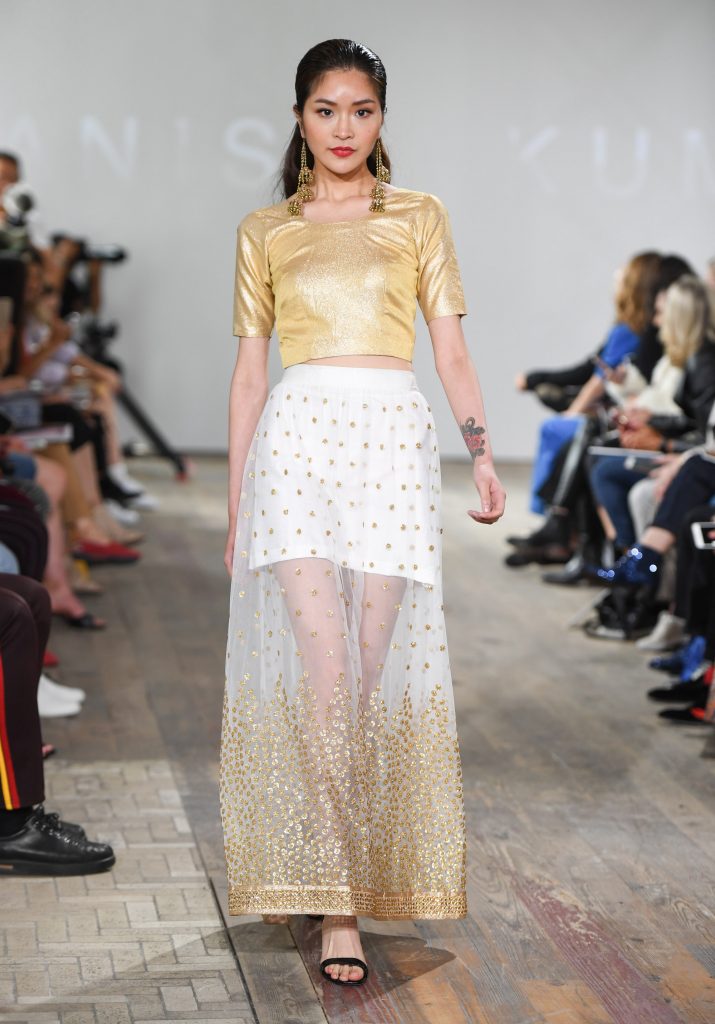 Fine-jewelry designer Hania Kuzbari hosted a private parlour-style presentation over high tea inside The Hazelton Hotel's Yorkville Room. The sparkling ethically sourced jewels, which ranged from delicate rings, bracelets and earrings to head-turning statement pieces, were showcased on live models and inspired by her experiences living in the Middle East and North America.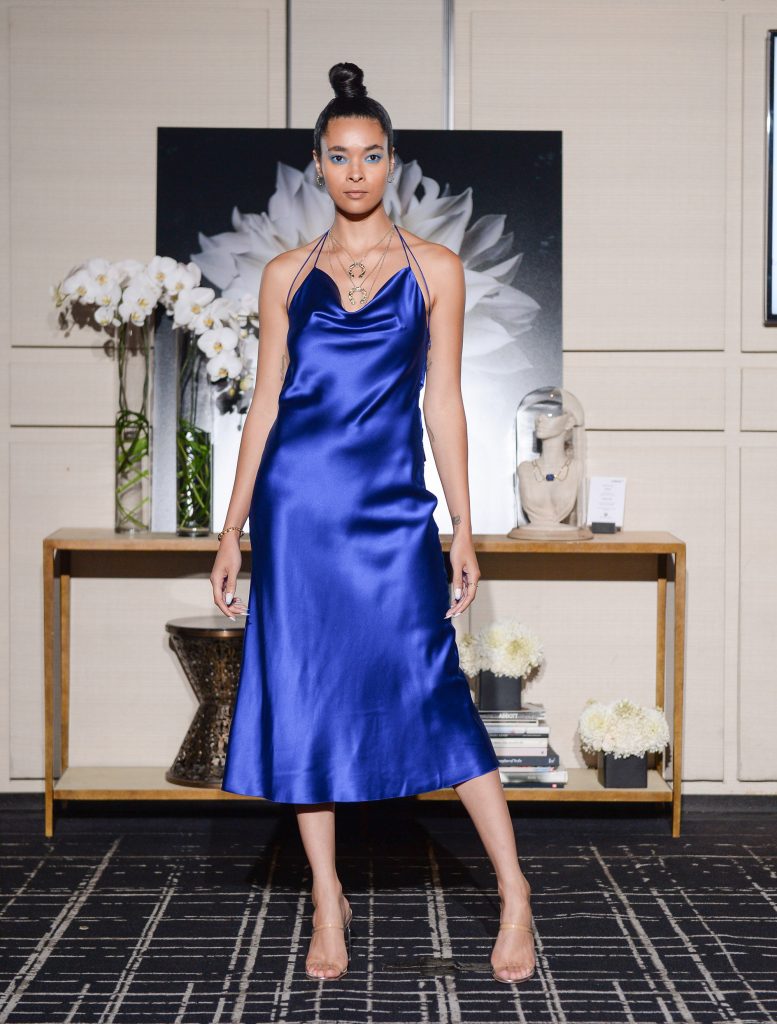 Meanwhile, menswear label The Feral by designer Zakariah Milana showcased a moodier palette inspired by the feeling of unease caused by climate change, and used pockets, textures and shape as a form of armour.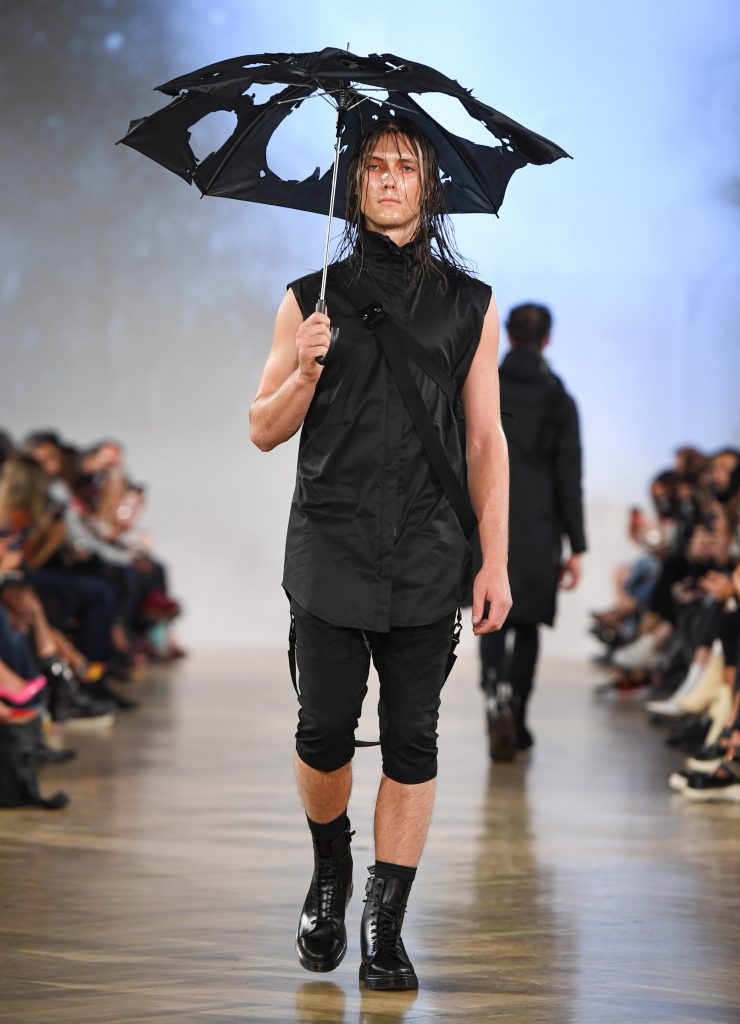 MODERN GLAMOUR AT CATHERINE CURTIS, KIM NEWPORT, RVNG COUTURE AND NARCES
Catherine Curtis presented her Spring/Summer 2020 collection at Fashion House with a series of stunning dresses that work for every occasion. Playful cocktail dresses and dramatic evening gowns experimented with various textures and silhouettes.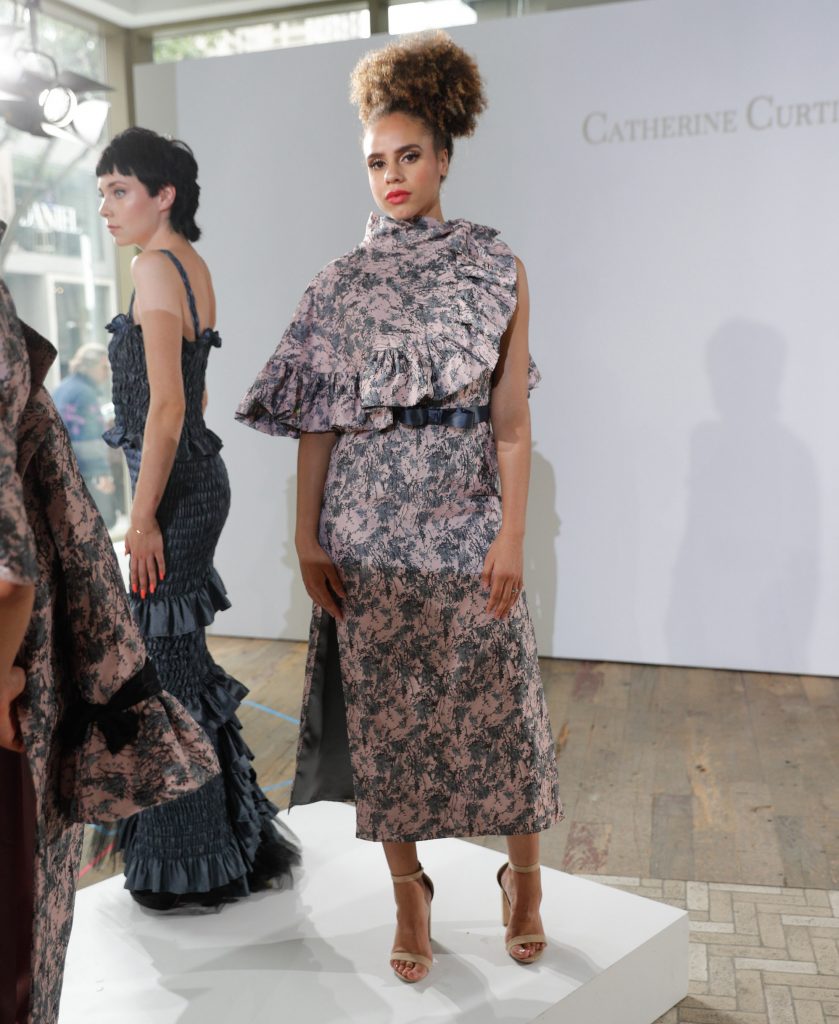 Kimberley Newport-Mimran, the president and design director of Pink Tartan, showcased her first eveningwear collection at the ROM under the label Kim Newport. From powder-pink dresses with oversized bows to floor-grazing feather-and-tulle confections, the designs exuded a timeless elegance. The beauty looks were also made to match. "It was all about bringing a modern edge to the sixties," says Jorge Joao, Global Redken Artist, about the hairstyle. "It was the silhouette of a '60s style with today's trend of having more movement, texture and versatility." Similarly, the nails, created by CND Canada Education Ambassador Liliya Leheta, were kept classic with a mid-length, almond shape and a sheer pale pink hue using CND Vinylux in Bouquet and White Wedding.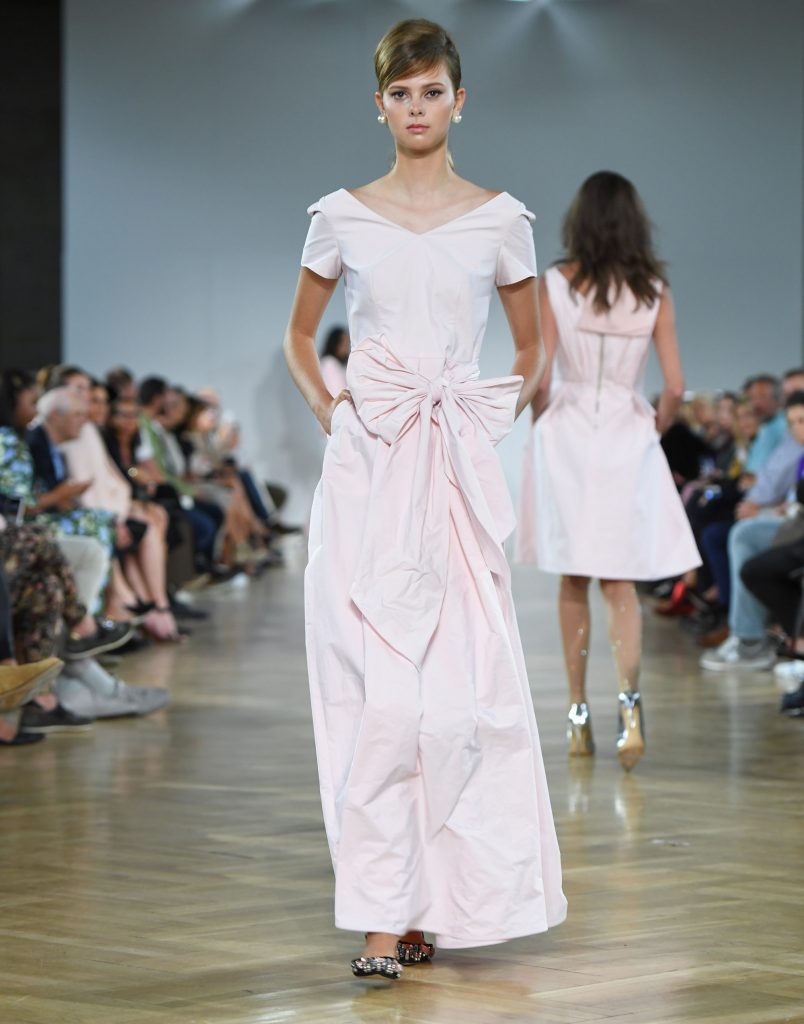 The pastel palette and feminine flourishes continued with RVNG, which took its inspiration from Rodeo Drive for its collection of ready-to-wear and couture creations. The fashion house delivered plenty of allure with careful attention to craftsmanship, whether it was a gorgeous gown with floral appliqués, a statement trench coat or a red-carpet-ready dress with a show-stopping train.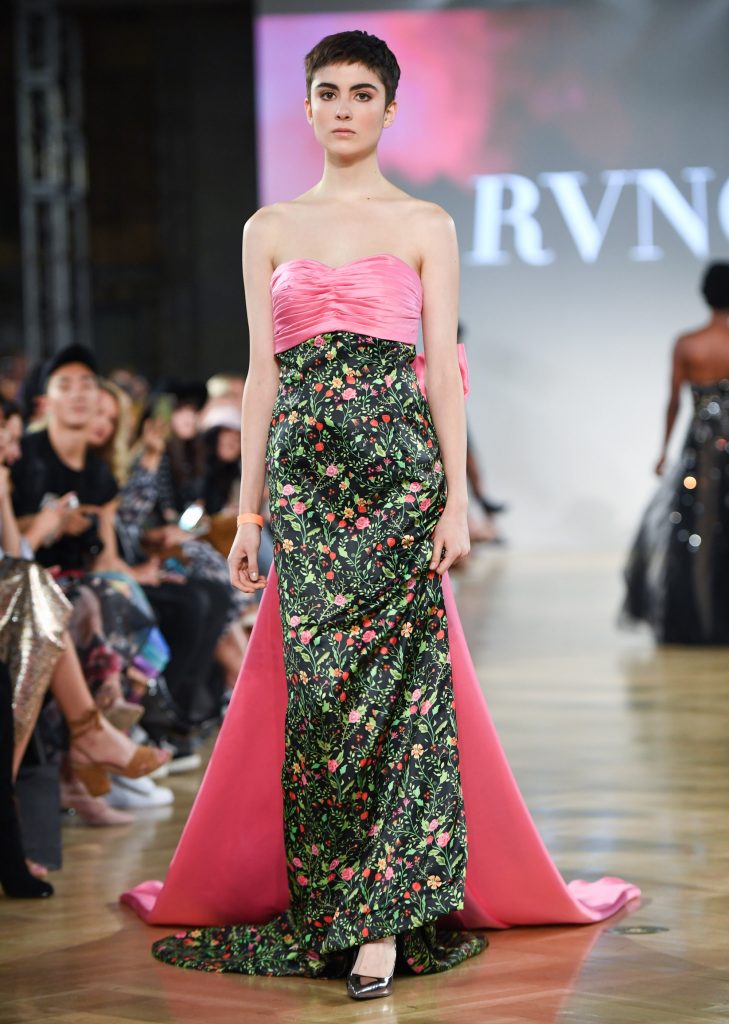 Meanwhile, Narces' interpretation of glamour ran the gamut from slinky slip dresses and neon cocktail numbers to sequined jumpsuits. The presentation also featured beautiful bridal gowns that played with unexpected combinations of tulle, paillettes, sequins and lace. The hair look, created by Jorge Joao, was slicked back to an elegant and understated effect.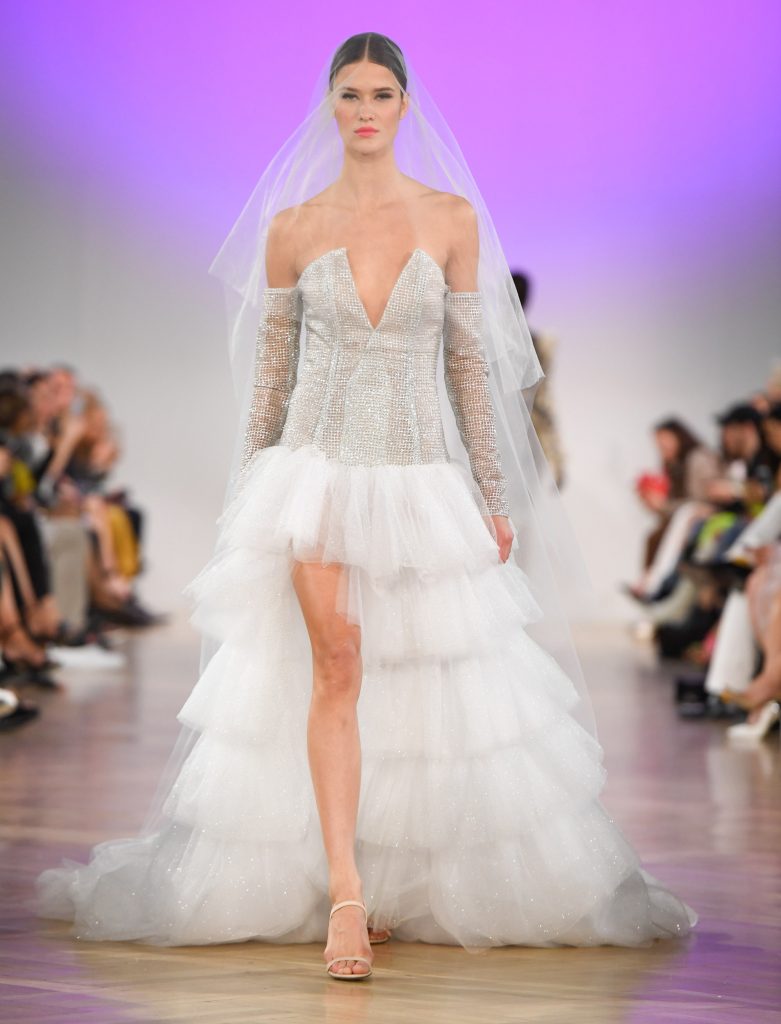 FASHION TALKS WITH RON WHITE
Inside Fashion House, host Donna Bishop sat down with Canadian shoe designer Ron White for a live recording of the Fashion Talks podcast to talk about his 25-year career in the industry. The celebrity-approved "Shoeru" (a moniker given to him by fashion journalist Jeanne Beker) chatted about his early entrepreneurial spirit as a kid growing up in Winnipeg, learning shoemaking from Italian factories, inventing the "All Day Heels" and navigating changes in the footwear industry.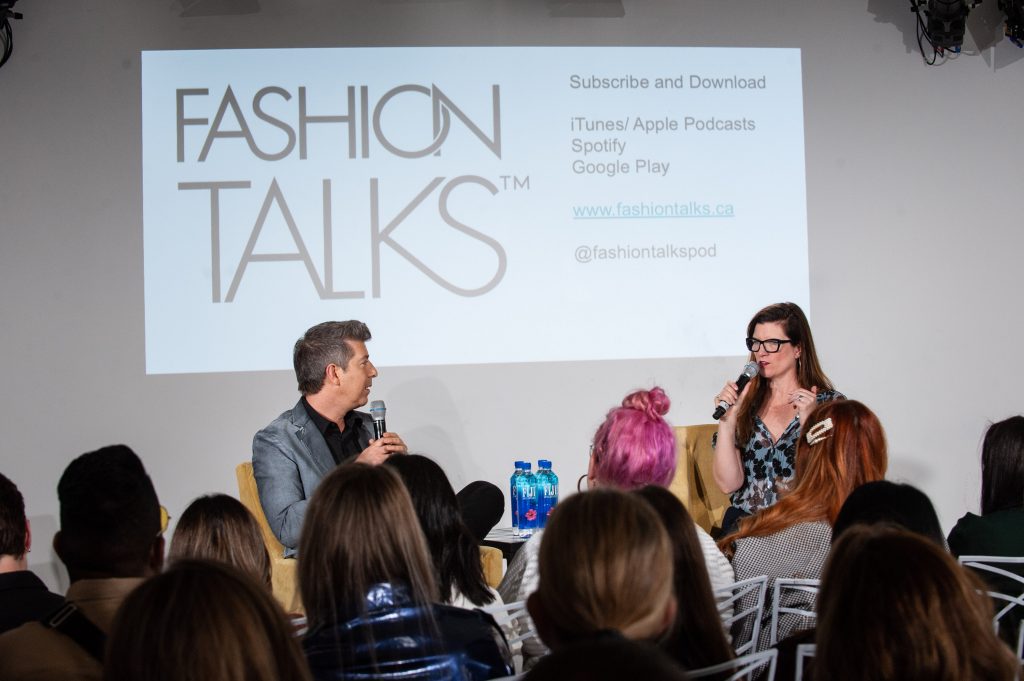 GIGI GORGEOUS: AN ICON IN THE MAKING
Over at Yorkville Village's The Oval, a photo series by XPOSED starring Canadian YouTube star, actress and model Gigi Gorgeous was exhibited as part of this year's Style Art initiative. Shot by fashion photographer Chris Nicholls and featuring art treatments by Lorca Moore, the series was entitled, 'Icon in the Making.' The evening's honouree, Gigi Gorgeous, also made a special appearance to celebrate the launch. A limited number of XPOSED x GIGI hoodies were also produced to accompany the exhibit and raise funds for The 519, Canada's largest LGBTQ2S community centre.