Namesake kicked off the first night of Toronto Fashion Week's Spring/Summer 2019 season with a presentation at Lumas Gallery. Known as one of Toronto's go-to art galleries for contemporary works, Lumas provided the perfect backdrop for founder and designer Rosa Halpern to showcase spring's graphic leather jackets. Having offered leather jackets exclusively since its inception in 2016, Namesake has the classic moto jacket down to a T, but this season, Halpern stepped outside of her comfort zone and incorporated her other love: art.Her Spring/Summer 2019 collection, titled The Artist Series, is a collaboration between Namesake and 13 visual artists. The 13 resulting leather jackets have strong graphic elements — from splattered paint and tattoo-inspired illustration to studded hearts and purple fringe made from human hair — that felt completely at home hanging among the gallery's canvases. Models posed for onlookers, more akin to moving statues than human beings, while the jackets themselves were hung in places usually reserved for art.
Mani Jassal is a Toronto-born designer known for mixing her South Asian heritage with her Canadian upbringing to create feminine clothing that is deeply personal. It was a motif the brand continued to carry through this season, offering a sari alongside a boatneck gown, both of which were cut from the same floral fabric.
The collection's name, Free Spirit, was present in every detail, from the opening film featuring spoken word poetry delivered over girls carelessly soaking up the rain, to the hair and beauty choices, which were reminiscent of a '60s flower child.
RE/SET continued to showcase and foster Canadian talent with their Discover This: Shop RE\SET presentation in the RE\SET studio. Focused on providing a stage for young emerging talent, Shop RE\SET included designs from Atelier Guarin, Hilary MacMillan, Sid Neigum, Markoo, Pedram Karimi, S.P Badu, WIL Studio, WRKDEPT, Biko, Cuchara Jewelry and Daniel Gregory Natale.
All conceptualized by different designers, you might think the looks would lack the cohesion of a typical collection, but that wasn't the case. While all the looks were vastly different, the presentation felt united by the similar stylings as well as the overwhelming sense of young Canadiana (best epitomized by a sweatshirt that read "The Bae" in a '60s Hudson's Bay logo-inspired script).
Specializing in formalwear, Narces is always a highly anticipated show at Toronto Fashion Week, and they definitely delivered this year. With yellow appliqué flowers sewn over nude and white tulle gowns and pink rosettes sweetening up piles of grey tulle and plunging necklines, the show started out with a garden-party inspiration.
Not one to disappoint, Nikki Wirthensohn Yassemi, the designer behind Narces, also made sure to include her much-loved bridal party designs, with plenty of white and off-white lace and chiffon. Topped off with beading, sparkles and over-the-top headpieces, NARCES Spring/Summer 2019 is a party we want an invite to.
Christopher Bates' runway show started with a heart-warming message from the designer about his struggle to make it as a designer. For someone who didn't know how to sew when he started design school, Christopher Bates' Italian-made menswear is nothing short of inspirational.
Starting with masculine bases like henleys and blazers, Christopher Bates' Spring/Summer 2019 collection incorporates pops of coral, azure and pale yellow in both expected ways (in a polo or a sweatshirt) as well as unexpected ways (in the fine pinstripe of a neutral dress pant).
After a few seasons debuting his collections in London or New York, Alberta-born, Toronto-based designer Sid Neigum is finally back to presenting on his own turf. And while his return to Toronto Fashion Week is a homecoming of sorts, it was also a huge departure.
Known for his penchant for black, Neigum's Spring/Summer 2019 collection was a stark contrast, with his neutral of choice a bright, clean white. Having had a moment to catch up with the designer backstage, Neigum said he wanted the few colourful pieces in the collection to stand out like a splatter of paint on a blank canvas.
While a few of his trademark architectural pieces did make it into this collection — most notably in the strong shouldered blazer worn in the opening look — they were mostly replaced by even more uncharacteristic choices. Fleated chiffon, sheer gowns and flowing florals softened the runway's surroundings of level P2 of Yorkville's parking structure.
Didn't we mention it was held in a parkade? Sid Neigum might be one of the only designers who can make you forget you're sitting in a humid parking garage with his clothes alone.
There were plenty more stunning beauty looks on the agenda for Day 1 of Toronto Fashion Week.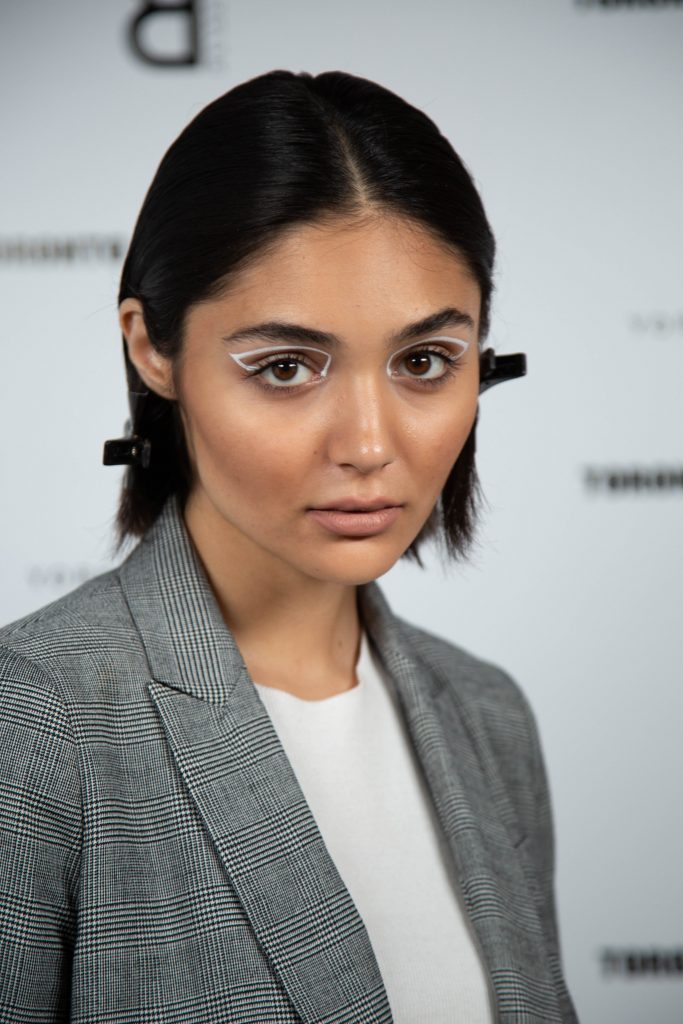 At Namesake, to play up the individual styles in the show, Simone Otis, lead makeup artist for beautyBOUTIQUE by Shoppers Drug Mart, created a sleek white eyeliner look. The six models in the show each rocked a different graphic liquid eyeliner style using Stila Stay All Day Waterproof Liquid Eye Liner in Snow White. The hairstyle played up that modern edge with a sharp middle part and stick straight strands. Jorge Joao, lead backstage stylist for Redken, used a heat protectant spray and shine spray to achieve the polished look.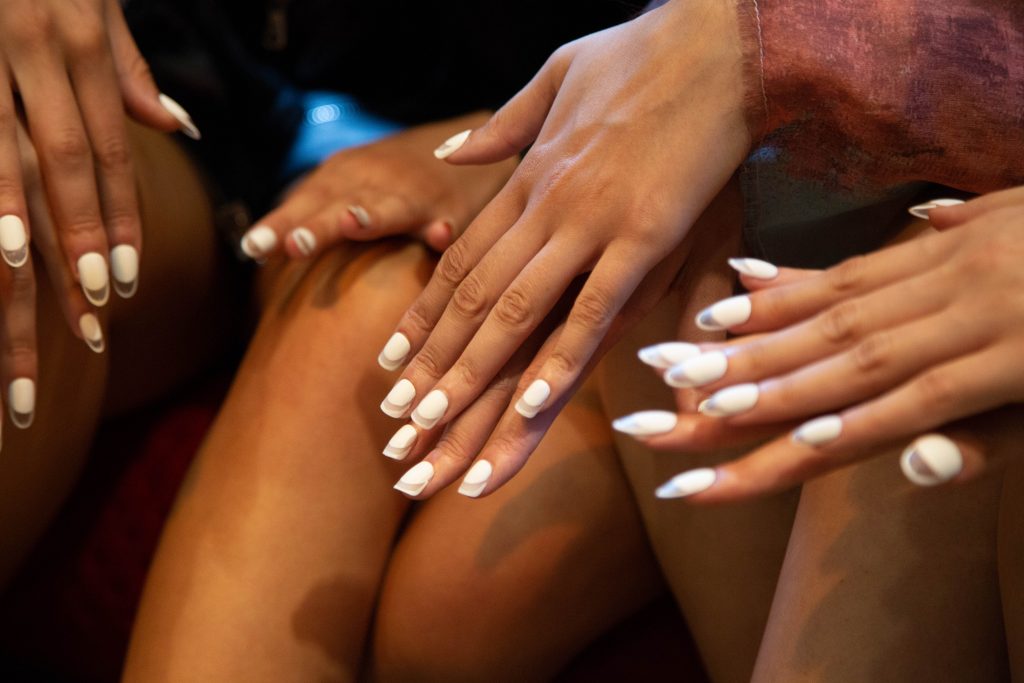 The nails also played into the white theme. Nude polish was painted on along with a clean white stripe to create a simple, graphic look. "The designer is really into customization and the bold, white stripe complements the white eyeliner and adds a sophisticated chic with a rock 'n roll flavour," says Jennifer Mather, education manager at CND Canada.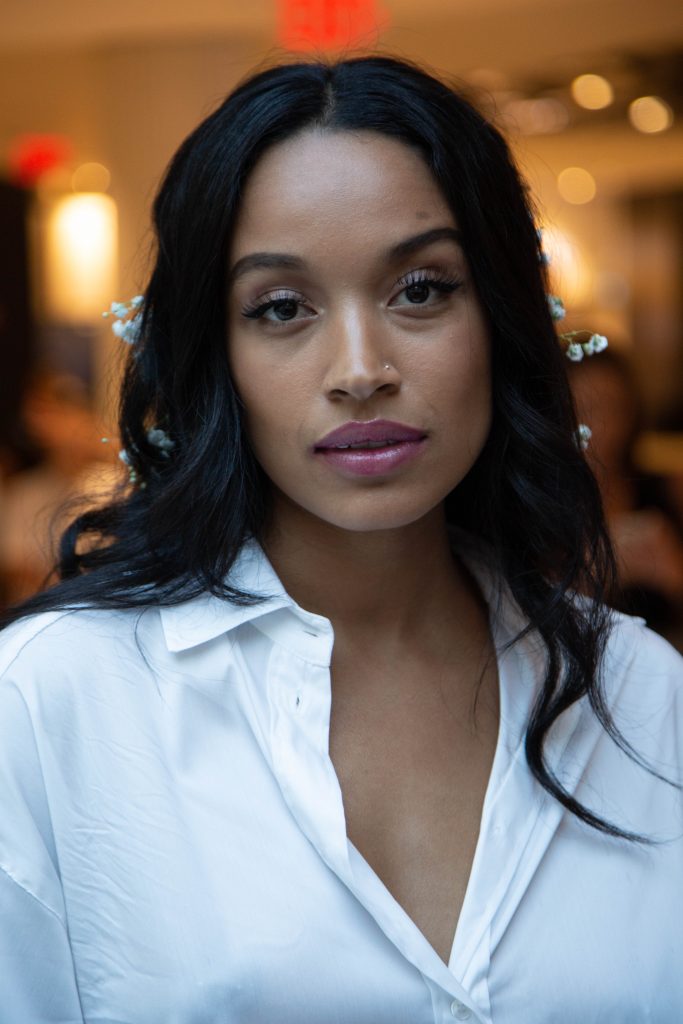 At Mani Jassal, the mandate was free-spirited bohemian when it came to beauty. Metallic eyes, glossy lips and false lashes gave models a glam edge. "The makeup is fresh and bohemian and the lashes give it a little flirty vibe," Otis said.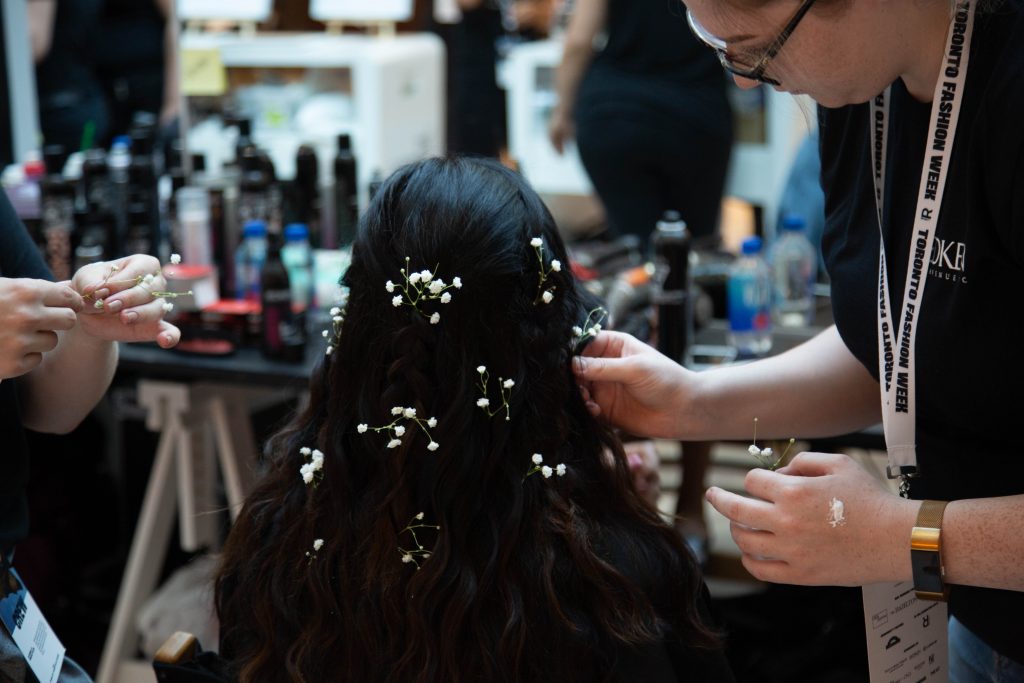 The hair played up that boho look, with beach waves and braids created throughout models' manes, which were then adorned with delicately placed flowers.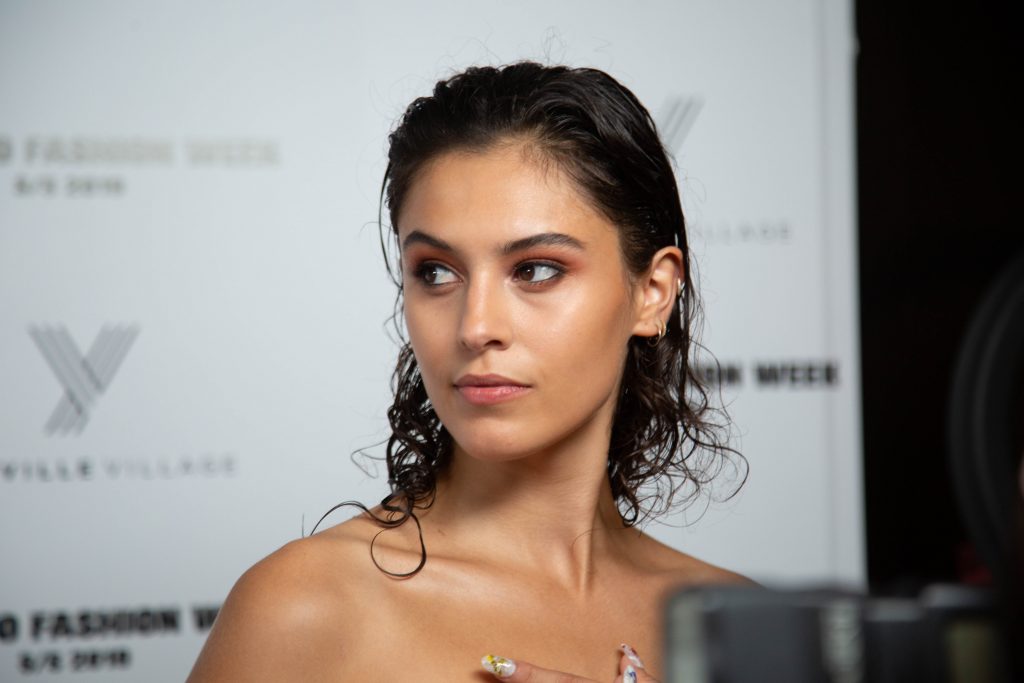 Narces turns up the glam dial every season and this time was no different. Otis created a rust-toned smokey eye using Urban Decay Eyeshadow in Spike and then lined the lower lash line in a burgundy pencil to give it a modern twist. False lashes were then applied to the lash line and a neutral lipstick pulled the whole look together. For the hair, Joao went for a sleek, wet look. "[The hair shouldn't] look like it's dripping wet, but instead have volume and texture as if she came out of the water and placed her hair back and it started to dry," says Joao. Redken Hardwear Gel was used to get that wet shine, while Shine Flash gave it a glossy finish.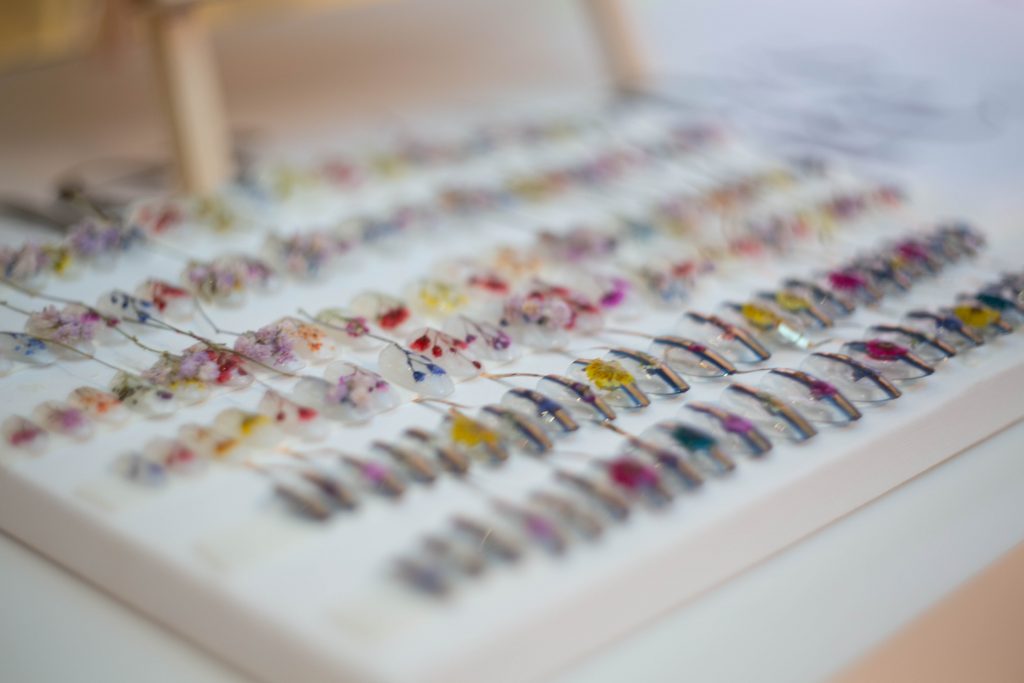 The nails were the pièce de résistance with this look. Small, intricate dried flowers were used to create this ultra romantic style. "They are like little works of art that are feminine while still making a statement," says Mather.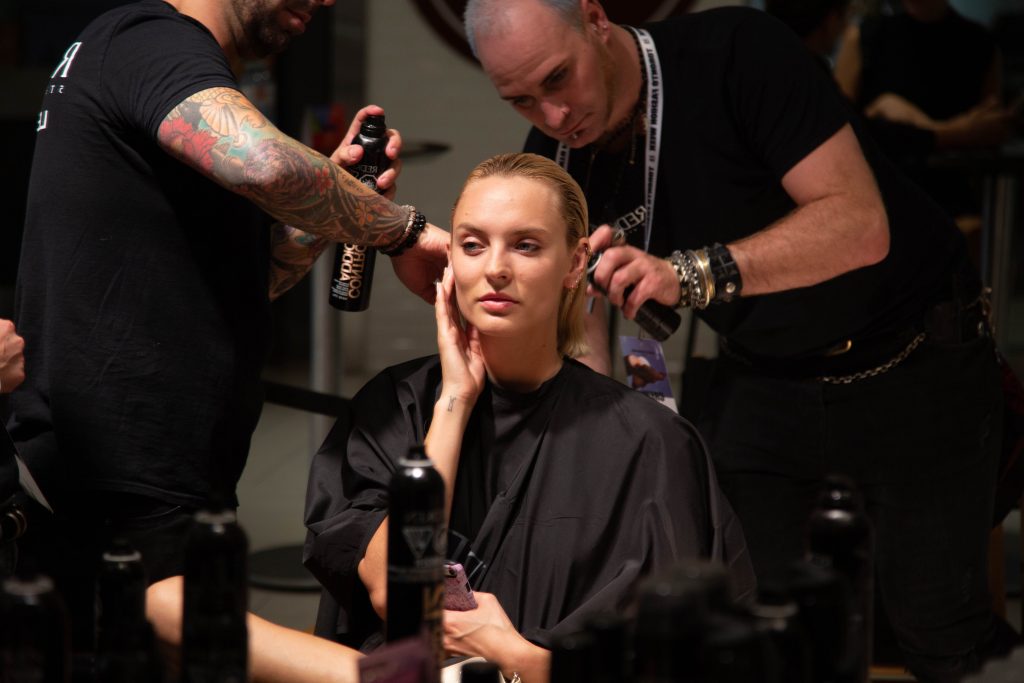 Closing out the night was Sid Neigum. The beauty look was understated and chic with the focus resting on amped up brows and clean, perfected skin. Hair was pulled straight back off the face into a low ponytail and topped off with Shine Flash spray for a smooth, glass-like finish.