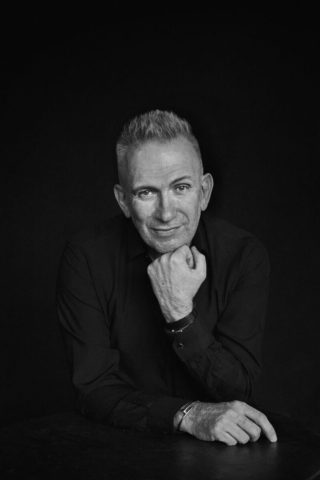 Toronto Fashion Week is proud to announce Jean Paul Gaultier as our International Guest of Honour this September.
Jean Paul Gaultier is a self-taught French couturier and ready-to-wear designer who has challenged convention in the fashion world since his first eponymous collection in 1976. Affectionately known as "enfant terrible," his signature avant-garde designs, including corsetry and tattoo prints, playfully wink at traditional fashion codes, turning them upside down with an androgynous twist. From men wearing skirts to women in slick suits, Mr. Gaultier is a master of the unexpected. His theatrical runway shows are an eclectic mix of industry models and his extravagant friends and muses of all ages and sizes. Whether his iconic creations appear on the red carpet (Nicole Kidman was his first couture client) or on stage (Madonna made his cone bra famous during her 1990 Blond Ambition Tour), Mr. Gaultier continues to revolutionize fashion with his superior craftsmanship and cheeky sense of humour. His illustrious 40-plus year career to date includes womenswear, menswear, childrenswear, couture, fragrances and a stint as creative director at Hermès (2004 to 2010).
1970/71
Jean Paul Gaultier got his start in the fashion industry working for legendary designer Pierre Cardin.
1976
He launched his first eponymous collection, which included dresses made out of braided straw.
1989
He designed costumes for several films, including Peter Greenaway's dark comedy crime drama The Cook, The Thief, The Wife and Her Lover.
1990
He designed Madonna's costumes for her Blond Ambition tour, including the famous conical bra corset.
1993
The Maison launched its first fragrance, Classique, housed in a provocative corseted bottle.
1997
His first couture collection included many of his design signatures like tattoo printed pieces, Breton stripes, and punk streetwear references.
2001
He received the title of Chevalier de la Légion d'Honneur (Knight of the Legion of Honour), one of France's highest honours.
2004
Hermès announced Mr. Gaultier as creative director of womenswear.
2006
He designed costumes for Madonna's Confessions tour.
2008
Marion Cotillard wore a Gaultier mermaid-like couture gown to the 80th Academy Awards, the year she won Best Actress for La Vie En Rose.
2011
His international exhibition The Fashion World of Jean Paul Gaultier: From the Sidewalk to the Catwalk, debuted at the Fine Arts Museum in Montreal. The 35-year retrospective featured more than 100 of his designs. By the time it closed in 2016, the traveling exhibit had been seen by more than 2 million people in 9 countries and 12 museums.
2015
Mr. Gaultier ceases his ready-to-wear collections in order to focus on haute couture.
Photography by Peter Lindbergh