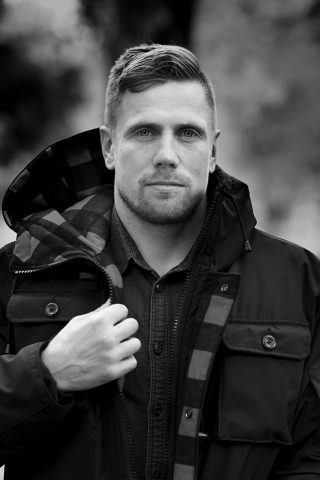 James Yurichuk – Founder and CEO of Wuxly Movement:
Canadian company, Wuxly Movement has made its mark as high performance outerwear by bringing to the market, the warmest Canadian-made and animal-free winter jackets. At the forefront of the fast-growing business is self-made entrepreneur and former CFL player, James Yurichuk.
Originally from Toronto, James grew up in a household where the respect for the environment was second nature. He went on to study Sports and Environmental Studies at Bishop's University in Quebec before being drafted for the BC Lions in 2009.
From there on, his football career took off and in 2011 he won the Grey Cup Championship with the Lions.
It was November 2012 when James returned to his hometown to play for the Toronto Argonauts. James arrived with his girlfriend at the time, who was visiting from Brazil and soon realized he needed to get her first winter jacket. James was adamant on finding a piece that was made in Canada, warm and animal-free. After searching to no avail, he decided to make his girlfriend her first parka.
James approached his best friend of 25-years, Anthony DeBartolo – a Master Tailor – with the idea to help bring it to life. After extensive research, James sourced military grade fabrics that were scientifically proven to outperform fur and down.
Shortly thereafter, Wuxly's first parka was created. As for the performance, it is safe to assume it worked as his Brazilian girlfriend decided to stay in frozen Toronto and become his wife.
The first of its kind, Wuxly Movement, has quickly made a name for itself among the most competitive and premium outerwear labels in the country. Since it's beginning in 2015, the business that launched through a Kickstarter campaign has since tripled sales every year and has gained an international reputation with significant sales increasing in the United States and Europe. Initially ran by James and his best friend, today Wuxly counts with over 12 employees in its Design House located in the heart of Toronto and ships its products worldwide.
The company that started in a small fashion incubator is now leading the animal-free outerwear fashion business in North America and while it's not yet a household name in the international outerwear industry, their unique mission and values has gained them a community of supporters. From top Canadian olympians to international actors and public figures, Wuxly is set to become the future of ethical outerwear.
About Wuxly Movement:
Wuxly movement is a progressive brand of Canadian-made outerwear. Born from a love of wildlife, Wuxly is proud to bring forward a new generation of high performance outerwear which utilizes military grade technical fabrics to promote movement in any condition, while adhering to our animal-free commitment.
The brand mantra, 'Live Warm' is more that a product benefit — its a way of life promotes warm vibes through positive actions. Independently owned, Wuxly lives warm through a unique production process that saves the lives of thousands of animals, utilizes innovative sustainable fabrics and implements the most stringent fair labour practices. from start to finish, each decision and detail we put into the creation of our products.
In the end, our goal is deliver an experience that allows to live warm— both inside and out.
Contact

Jessica Panetta







Phone

416.706.5828