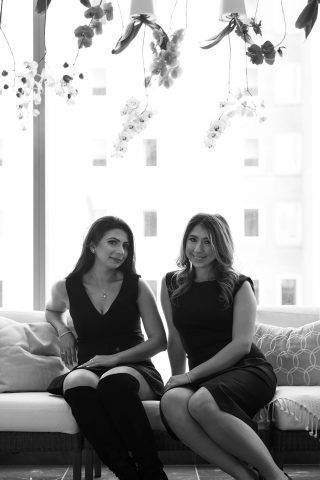 FOUNDERS AND SISTERS RIM & RITA ELIAS ARE THE TWO PASSIONATE CREATORS AND DESIGNERS BEHIND MAISON ELAMA'S PIECES.
LEAVING BEHIND THEIR CORPORATE JOBS, A CPA & A CHEMIST CHOSE TO CHASE THEIR ENTREPRENEURIAL CALLING AND CREATIVE DREAMS TO DEVELOP A NEW AND FRESH APPROACH TO LUXURY OUTERWEAR.
IN 2014 ELAMA WAS ESTABLISHED IN MONTREAL, QUEBEC.
APPEARING ON DRAGON'S DEN CANADA & GAINING CLIENTS WORLDWIDE HAS ALLOWED MAISON ELAMA TO GROW RAPIDLY AND PERMIT THE SISTERS TO OWN THEIR MONTREAL ATELIER AS WELL AS TWO RETAIL LOCATION, IN ROCKLAND MALL IN MONTREAL AS WELL AS A SHOWROOM IN YORKVILLE, TORONTO.
WITH MATERIALS OF THE HIGHEST QUALITY SOURCED FROM THE MOST ETHICAL ENVIRONMENTS, ELAMA OFFERS DISTINCT DESIGNS,
BLENDING MODERN ELEGANCE WITH AN IRRESISTIBLE VINTAGE FLARE.
FROM STREET CHIC TO EVENING GLAMOUR, FROM THE BOARD-ROOM TO THE AFTER-PARTY, YOUR ELAMA PIECE BECOMES PART OF YOUR OWN
PERSONAL AND ELEVATED FASHION STATEMENT.
AND, BECAUSE FUR IS FOREVER, ELAMA IS A PROUD PIONEER IN REDESIGNING EXISTING FUR GARMENTS. CASHMERE, LEATHER AND OTHER MATERIALS ARE INCORPORATED INTO YOUR NEW DESIGN TO CURATE YOUR OWN MADE-TO-MEASURE PIECE.
WITH THE BELIEF THAT HIGH-FASHION SHOULDN'T BE DISPOSABLE, ELAMA'S OUTWEAR AND ACCESSORIES ARE MEANT TO BE PART OF YOUR MOST PRECIOUS MOMENTS, CARVING A WAY INTO YOUR HERITAGE, TO BE PASSED ON FOR GENERATIONS TO COME.
WITH ELAMA, YOUR STYLE LEAVES A LEGACY.
#EMPOWERWITHSTYLE
ABOUT THE COLLECTION
ELAMA IS PROUD TO SHOWCASE ITS COLLECTION FOR THE FIRST TIME AT TORONTO FASHION WEEK IN SEPTEMBER 2019.
E L A M A' S FA L L – W I N T E R C O L L E C T I O N
F U S E S D I S T I N C T I V E E L E G A N C E W I T H
U R B A N T E N A C I T Y, A W E A R A B L E
H O M AG E T O T H E M O D E R N – DAY M U S E .
THE SEE NOW, BUY COLLECTION AVAILABLE WILL BE AVAILABLE AFTER THE RUNWAY SHOW AT THE SHOWROOM AT 1240 BAY STREET, SUITE 604, YORKVILLE, TORONTO.
Twitter:

#EMPOWERWITHSTYLE