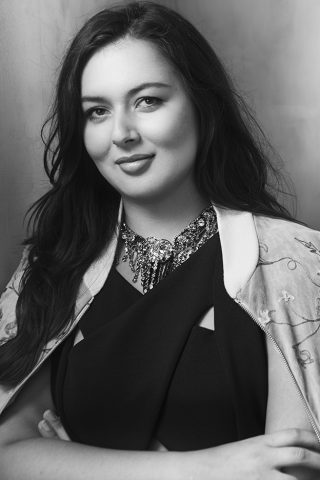 Lesley Hampton was a 'third culture kid' and her early life was one of constant relocation. Formative years spent in Canada's Arctic and Atlantic, Australia, England, Indonesia, and New Caledonia, added to her quest to establish a personal and cultural identity. Lesley defines herself through the amalgamation of the indigeneity, to her Anishinaabe and Mohawk heritage, as well as, her early nomadic upbringing. Becoming a nomad through experiences with boarding school, international school, adoption, and cross-cultural experiences, Lesley nurtured a passion for socio-cultural concepts, to help define her identity, and reconnect with her indigenous roots.
Within the first 3 months of the foundation for LESLEY HAMPTON in 2016, the inaugural collection made by Lesley during her first semester of fashion school, was featured in Vogue UK, Glamour UK, and print editorials, such as CHLOE Magazine FW16. The brand continued flourishing success prior to Lesley's graduation, with viral features in Marie Claire, ELLE UK, COSMO UK, Daily Mail UK, Allure, and Yahoo Style; and worn on the red carpet by Penny Oleksiak, Cheryl Hickey, Dragonette, Sarah Fisher, Joan Kelley Walker (RHOT), and Millie Davis.
After graduation, she established her headquarters and launched her atelier at the Toronto Fashion Incubator. LESLEY HAMPTON has since been featured in international press, such as, Vogue UK, Vogue Italia, Teen Vogue, Elle, Flare, The Kit, USA TODAY, FOX, CBC, ETalk, and Your Morning; as well as, on notable names such as, Margaret Trudeau, Serena Ryder, Catherine Reitman, Laura Vandervoort, Dani Kind, Mia Martina, FLETCHER, Iskwe, Michele Romanow, Vanessa Craft, Melissa Grelo, Liz Trinnear, Roxy Earle, Robyn Lawley, Melanie Scrofano and Katherine Barrell, Sharron Matthews and Allana Harkin. The brand has also been featured along side industry changing leaders for diversity such as Ashley Graham, and Christian Siriano.
Lesley received her International Baccalaureate Diploma from ACS Hillingdon International School in London England, Honours Bachelor of Arts Degree from the University of Toronto and Sheridan College, with a specialty in Art Studio and Art History, and Ontario College Diploma in Fashion Techniques and Design Diploma from George Brown College.
Lesley received recognition for her fashion and entrepreneurial work from the Canadian Arts and Fashion Awards – 2018 Simons Fashion Design Student Award nomination, RBC Canadian Women Entrepreneur Awards 2018 nomination and City MOGULS 2018 nomination.
Contact

Jessica Panetta







Phone

416.706.5828