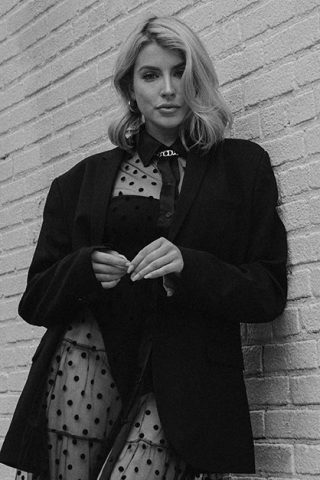 La Reyna is an affordable luxury collection of women's bodysuits built to flatter female bodies. When crafting her suits, founder and designer Kristina Pittam considered the contemporary woman, and the varying figures that make her uniquely beautiful.
Our bodies have curves in all the right places, and La Reyna garments are designed to fit those curves just right: structured for bust support, seamless wear, and functionality.
Composed of premium fabrics, La Reyna bodysuits are suitable for long-wear and feature an adjustable closure to accommodate a wide range of torso lengths for ensured comfort.
When developing La Reyna, Pittam considered the importance of sustainable as well as ethical production practices. The entire collection is designed and proudly made in Canada.
The Designer
Kristina Pittam launched La Reyna in November of 2018. She is also the fashion + lifestyle influencer behind WeAreLivingArt. Her passion for the womenswear industry and interest in the e-commerce market lead her to launch her own brand. Since graduating as a Communication Studies major at Wilfrid Laurier University, Kristina has taken on a path of creativity and entrepreneurship as she continuously works on her two businesses that align together.
website: www.lareyna.ca
social media: @lareynabykp @wearelivingart
hashtags: #LRqueen #LaReyna