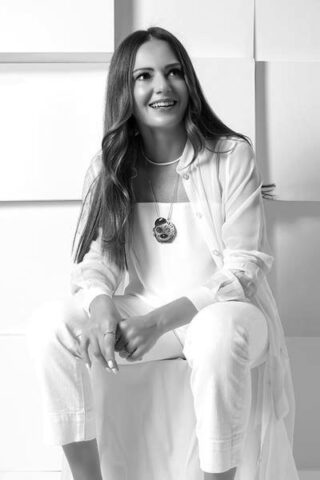 Hania Kuzbari's life is the rich tapestry behind the creative process behind each of her
artisanal jewelry collections. A true global citizen, Hania has lived in both the Middle
East and North America, drawing inspirations from each distinctive region into her
creations. Living in these ancient and modern cultural hubs has fueled her artistic
character, lending a refined sensibility and detailed storytelling in each piece she
designs.
After earning her graduate degree in business, Hania pursued her interest in this craft,
taking Jewelry Studies and Gemology at George Brown College in Toronto. She further
immersed herself in jewelry design arts at Alchemia Contemporary Jewellery School in
Florence, Italy. Hania's creative force as a fine jewelry designer stems from her love of
art and appreciation for beauty in everyday life.
At the heart of Hania Kuzbari Jewelry is sustainability. This is prioritized through
ethical sourcing, expert craftsmanship and a genuine passion for the art and process
of jewelry making. Hania is proud to bring her collections to life with sustainability
and socioeconomic factors top of mind. Her specialized team of handcrafters work
only with conflict-free diamond suppliers and fair-trade gold. This ensures every
person throughout the production process is respected and paid fairly for their labour.
Website:









Instagram:

@Haniakuzbarijewelry

Twitter:

@Haniadesigns

Facebook:

/Haniakuzbarijewelry #HaniaKuzbariJewelry