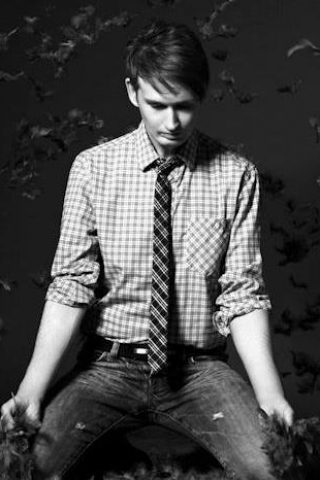 David Dixon goes where no one else does. After graduating from Ryerson University in 1995, he recognized a gap in the Canadian Fashion Industry: women's contemporary evening wear and event dressing. With that, his eponymous label was born. Today, his designs are sold across Canada and in select boutiques around the globe. David's latest collection, BÜBL x David Dixon, continues his history of breaking new ground in fashion.
Since the outset, David's work has redefined the relationship between classic and modern; combining luxury and function, it fuses aspiration and sensibility. He manufactures all of his designs in Canada, using the best fabrics from around the world. For BÜBL x David Dixon, he is working with a new textile entirely: bubble wrap.
A partnership with Osteoporosis Canada, the collection incorporates bubble wrap – a universal symbol for protection – into runway pieces inspired by the two million Canadians affected by osteoporosis. Infused with David's signature approach and aesthetic, it is at once contemporary and timeless.
Throughout his career, David's innovative designs have won him a following with many in film and fashion, including Meg Ryan, Meagan Follows, Jeanne Beker, Noot Seear, Linda Evangelista, Coco Rocha, Wendy Crewson, Daria Werbowy, Sarah Polley, Jann Arden, Nicole Kidman, Jennifer Love Hewitt, Alanis Morissette, Kristin Booth, Allana Zimmer, Nelly Furtado, Suzanne Rogers, Catherine O' Hara, Katie Holmes, and Iman, to name a few.
His work has been featured in Vogue, Marie Claire, Town & Country, Elle, Elle Canada, Flare, Dressed to Kill, Fashion, Zink, The Globe and Mail, WWD, and many other publications. He has appeared on Fashion Television, Fashion File, Celebrity Style, MTV, and Project Runway.
In David's words:
"I am constantly cultivating whom and what I am, as well as who I would like to be. It is an evolutionary process. I technically and artistically can design whatever crosses my mind. But is that what I want to be about? Not at this moment. I am about challenging myself, showing a body of work that is consistent, yet intrigues at the same time. I believe fashion is a powerful medium; with BÜBL, I'm excited to use it to raise awareness around a pervasive disease."