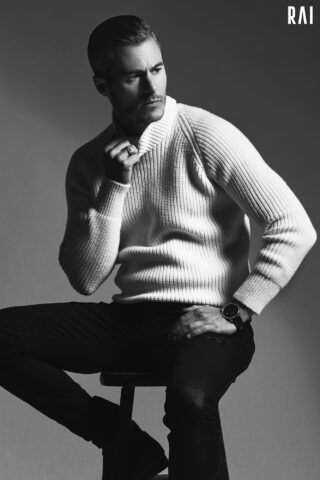 Canadian contemporary menswear designer Christopher Bates launched his eponymous namesake menswear line in 2008 after training in Milan at legendary Istituto Marangoni. Featured as one of the top menswear designers in Canada by Sharp Magazine, combined with being the only menswear designer in the Mercedes-Benz StartUp Program and a three-time nominee for CAFA Canadian Menswear Designer of the Year Award, Christopher Bates' timeless menswear line and recognizable kiss print has become a staple in Canadian wardrobes.
Currently based in Milan, Italy, Christopher Bates uses top quality fabrics and extreme attention to detail, attracting a number of celebrity fans including MLB Star Jose Bautista, NBA star DeMarre Carroll of the Brooklyn Nets, MLS forward Tosaint Ricketts of the Toronto FC, Wilson Cruz (Star Trek), Shawn Mendes, Howie-D of the Backstreet Boys, bands: Marianas Trench and Walk Off The Earth, actors: Don Cheadle (The Avengers), John Boyega (Star Wars Episode VIII), Greg Bryk (Bitten), and Mark O'Brien (Arrival) among many others.
The determination Christopher Bates expresses is almost palpable, and apparent in every aspect of his life. He is versatile and particularly focused on beautiful, innovative details. His innate curiosity and forward-thinking creative mind are what led his line to be picked up by Nordstrom for the upcoming SS19 season.
The Christopher Bates collection has garnered significant local, national and international press including: VOGUE Italia, Women's Wear Daily, Forbes, GQ Brazil, Elle, FASHION, SCHÖN!, Hello! Magazine, Huffington Post, FLARE, the Globe and Mail, the National Post, Toronto Star, CTV and many more.
Photo Credit Rai Allen
Contact

Anya Nordström

Email

anya@nordstrommatte.com

Phone

647-812-0933 ext. 406









Contact

Dani Matte

Email

dani@nordstrommatte.com

Phone

647-812-0933 ext. 401