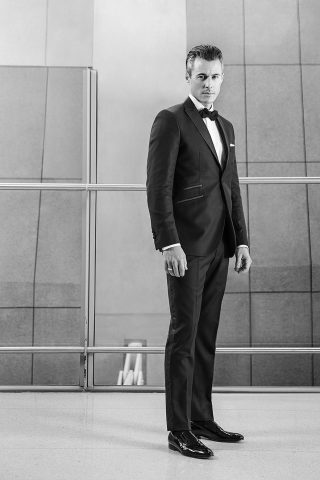 THE BRAND
CHRISTOPHER BATES fully embraces the Made in Italy philosophy. He offers genuine excellence to his customers through his contemporary collections comprised of both menswear and footwear for a total look that is modern, yet timeless. His brand appeals to discerning men who appreciate premium products that are stylish, artisanal, and crafted from a sophisticated selection of materials.
The Christopher Bates Man has a dynamic personality. He loves to experiment without excess, and desires a clean design that is enriched with thoughtful details.
You can be as young at 50 as you are at 25, and those who choose Christopher Bates do not impose limitations on themselves. Bates demolishes these barriers, these age-related stereotypes; he is life, the real one, made up of business meetings and evenings with friends, of love and passion, of present and future.
Significant attention is given to the choice of materials and colour palette. The artisanal laboratories that produce the brand are rigorously screened. Bates' cosmopolitan spirit emerges in a dominant way throughout his collections and he never compromises on quality or style. That is the reason behind the Made in Italy choice and why all that emerges from his touch is perfect for the weekend, for the evening, for the urban-look.
THE DESIGNER
Originally from Canada, Christopher Bates has chosen his real name to represent himself in the fashion world. He was educated at Istituto Marangoni in Milan, a renowned institution synonymous with fashion, design and art. Since his debut, this intrepid designer has achieved a meteoric rise in the fashion industry. In 2014 he established a design studio in Milan to produce, with pride, in this splendid country.
The determination that Christopher Bates expresses is almost palpable, and apparent in every aspect of his life. He is versatile and particularly focused on beautiful, innovative details. He has an innate curiosity and is inspired by anatomy, architecture, geometry and also from other art forms such as cooking. His ultimate style icon is Sean Connery's James Bond. He sells to influential retailers including: Nordstrom, Harry Rosen, and Gotstyle.
In 2009, Bates was featured as one of the top menswear designers in Canada by Sharp Magazine. In 2012, he was featured as the only menswear designer in the Mercedes-Benz StartUp Program and awarded a sponsored show at Toronto Fashion Week. In 2014, he was included in Canada's Top 100 Most Influential People (Alberta Youth Congress). He was also nominated for the 2014 and 2015 Notable Award for Fashion in Canada. In 2018 Bates won a Visionary Award from Fashion Group International, Toronto (FGI) and in 2019 he won the Canadian Menswear Designer of the Year Award (CAFA).
He also designed the new uniforms for Air Canada – one of the largest airlines in the world. Unveiled worldwide in the Spring of 2018, the new uniforms have already won several awards including two Image of the Year Awards: "Best of the Best" and Transportation, People" from the North American Association of Uniform Manufacturers and Distributors
(NAUMD), as well as "Best Design for Corporate Clothing" from the Professional Clothing Awards in London where Air Canada was the first North American company to win at these awards.
He has been featured in many top media publications including: L'Uomo Vogue Italia, Women's Wear Daily, Forbes, GQ Brazil, Monocle, Elle, Fashion, SCHÖN!, Hello!, Huffington Post, Esquire China, and Flare…
"Bates's story has strange echoes in the stories of Dean and Dan Caten, the Canadians behind D-Squared." Derek McCormack, National Post
Celebrities he has dressed include: actors: Michael Shannon (The Shape of Water), Don Cheadle (The Avengers), John Boyega (Star Wars Episode VIII), and Wilson Cruz (Star Trek: Discovery), CBC's Ron MacLean, Formula 1 drivers: Charles Leclerc (Ferrari), Antonio Giovinazzi (Alfa Romeo), George Russell (Williams), athletes: MLB Star Jose Bautista of the New York Mets, NBA star DeMarre Carroll of the San Antonio Spurs, Canadian soccer star Tosaint Ricketts, Film Producers: Gary Michael Walters (Drive), and Andrea Iervolino (The Merchant of Venice), and musicians: Shawn Mendes, Howie-D of the Backstreet Boys, bands: Marianas Trench and Walk Off The Earth.
Website:









Instagram:

@christopher.bates.official

Facebook:

@CBatesMenswear